Homemade face scrub : We often search for a face pack or facemask to get a fairer looking skin, but we generally forget in this hurry that fair skin treatment would not work properly without a clear surface, and a nice face scrub exactly does that with an effortless way! A working face scrub helps to remove ingrained dust, dirt, and dead cells from our face that come up with a brighter looking face along with anti-ageing benefits. As we always prefer to homemade products, especially, when it comes to the matter of beauty care, thus, today also we are referring some homespun recipes which work as the best face scrubs of recent times, check them out below-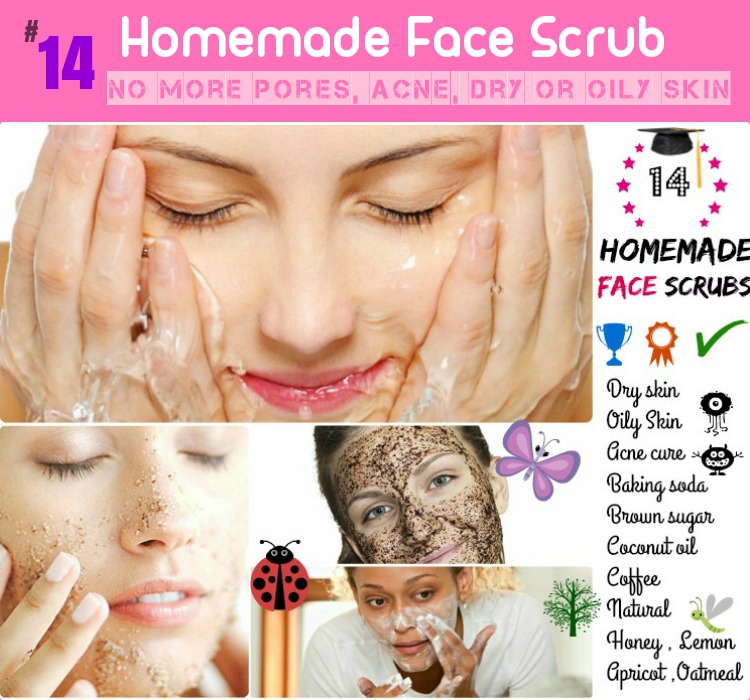 Homemade Face Scrubs : Part 2 | Part 3 | Part 4
Page 2. Sensitive skin, Sugar scrub, Sea salt | 3.  Blackheads, Exfoliating, Honey, Lemon | 4. Coffee, Oatmeal, Apricot and Brown sugar face scrub.
1. Face Scrub for Oily Skin:
Oily skin type probably faces the worst skin problems than any other skin kind as it comes up with sebum and dead skin cells, and at the same time, lure dirt and pollution in a huge quantity! Thus, to fill all these skin impurities, this homemade orange-sugar face scrub plays a significant role in a truly effortless way, as the sugar kernels drag out the dirt and excess oil from the face along with the dead cells and orange juice provides an amazing glow to the face! Let's check it out-
Ingredients:
To make this pack you need, 3-4 tbsp of fresh orange juice, 1 tbsp of sugar, and one small mixing bowl, that's it!
How to make:
At first, take both the ingredients into the mixing bowl, and stir them with your finger.
Then, apply them on your face and neck areas with your hand, but skip the under eyes area carefully.
After that, rub gently for 4 to 5 minutes in an up circle way and wash the pack off with cold water. We are insisting on using cold water because it helps to close those pores which may open for this scrubbing!
Now, dry the face gently with a towel and apply some soft moisturizer to nourish your skin immediately.
You may also love our top 5 homemade face pack for oily skin.
Related Video on Homemade Face scrubs and DIY Face mask ( Dry skin and Oily)
2. Face Scrub for Acne:
Earlier, we were thinking that face scrub is not safe to use on acnes as it may squish or increase the percentage of a pimple after rubbing with scrub. But, new age dermatologists have proven that how one perfect face scrubs can reduce the possibilities of acnes, after clearing them from the facial surface! Let's check out this special face scrub for acne skin which helps to kill the bacteria, shrink the pores, drag out the dirt and control the excess sebum from your skin cells and works for an acne free clear face-
Ingredients:
To make the best face scrub for acne you need, ½ cup of baking soda and 1/8 cup of filtered water and a small bowl.
How to :
At first, take two ingredients into the bowl and combine very well both merge smoothly.
Now, apply that paste on your entire face, especially, on the acne-prone areas.
Rub the scrub gently for 5 minutes and then rinse it off with normal water.
After drying the face, apply any acne special cream over the pimples and let them working for a long while.
You may also like the homemade face packs to get rid of pimples.
3. Face Scrub for Dry Skin:
If oily skin owner always seeks for a face scrub then, dry skin holders eternally try to avoid them because of the natural dryness of this beauty product. But, even dry skins need a proper cleaning to drag out the dust dirt from the skin cells, right! Thus, we are referring this Banana face scrub for those dry skin owners that will help to exfoliation and supply some required softness to your skin cells, along with removing the unwanted dryness from the surface! Let's take a look-
Ingredients:
To make this super effective face scrub you need only one ripe banana and 1 tbsp of raw honey, along with a mixing container.
Procedure:
At the initial stage, peel the banana and mash it up smoothly with a masher.
Then add 1 tbsp of honey into that mashed banana and combine well.
When you get a thick paste of it, apply the paste on your face and gently massage the pulp in an up circle way.
After massaging the scrub 4 to five minutes, wash it off with some cold water.
If you can apply this scrub pack once in a week, you will get rid of that unnecessary dryness soon, for sure!
Love lots of homemade face packs try these for too for glowing skin.