Here we come up with some extremely easy-to-make DIY bath bomb recipes which are the best alternative to revitalize your skin through a beautiful relaxation bath. Let's check them out and prepare with your suitable ingredients in the easiest way-
Watch this bath bomb fizz its satisfying and relaxing and lets jump on to bath bomb DIY.
Thank you @sierra_hill_ for the bath bomb. #relaxation #soothing pic.twitter.com/USv5zU1kFv

— Emilie Heidemann (@emilie_1014) November 2, 2018
1. DIY Giant Oreo Cookies Bath Bomb:

This is a fun project to make and could quench the requirement of a refreshing bath bomb with an unusually big size, unlike the normal bath bombs. Let's check out how to prepare this fancy bath bombs easily at home.
Supplies You Need:
4 cups of baking soda
2 cups of Epsom salt
2 cups citric acid
7-8 tbsp of olive oil
A flat glass-made mold
A plastic cookie mold
Black food coloring
A measuring cup
A large bowl
And some tissues
How to Prepare:
At first, take 2 cups of baking soda in a large glass bowl and add 1 cup of Epsom salt into it
Now, include 1 cup of citric acid along into the bowl and mix the dry ingredients finely with your fingers
Then, add 3-4 tbsp of olive oil into the mixture and combine them very well, so then you can get a fine mixture of your ingredients
Make sure that you get the exact consistency for a bath bomb at the end of your course, as you can see in the video
Now bring the glass-made mold and spread the mixture into that mold with a smooth top surface
Let it set like for in open air for 24 hours uninterruptedly and prepare the Oreo biscuits for this cream mold in this gap
To do so, take the rest dry ingredients into the large bowl aging and repeat the process similarly to get the exact bath bomb consistency again
Then, add a few drops of black food coloring into that mixture and then combine the whole thing finely with your hand to get the smooth texture
Finally, pour the mixture in a plastic cookie mold and always grease the mold with a layer of olive oil before pouring it down
Use tissue paper to spread the oil into the mold perfectly and set the mold uninterruptedly for the next 2 hours after spreading it smoothly into that mold
After the certain duration, make one more black cookie similarly and take both cookie-shaped items out from the mold carefully
Now, bring the glass mold and take out the white soap from that mold carefully
Layer the Oreo cookies perfectly with two choco cookie pieces and one white-creamy layer then, use it in your bathtub as a fancy giant bath bomb in your relaxation bath happily.
2. DIY Simple Black Bath Bombs:

This is an utterly simple and easy-to-make that could be prepared within a few hours at home, without any previous experience of such DIY process at all! All you need is just gather the supplies and bring the process on of making mysterious black bath bomb gleefully.
Supplies You Need:
How to Prepare:
At first, take baking soda, cornstarch, and Epsom salt in a large bowl along with the citric acid
Now, combine them repeatedly with a spatula to make sure that the dry ingredients are merged finely with each other
Then, add 1 tbsp of water into it and mix it up smoothly with the spatula similarly
Once you feel that the water is absorbed perfectly into the dry ingredients, add 4 tbsp of coconut oil into the mixture and combine them finely
Try to add the coconut oil in a slow yet steady speed into the bowl and keep mixing the ingredients repeatedly when you are pouring the oil into it
After beating the dry ingredients several times, check the consistency with your hands and make sure the mixture is ready for the final stage of bath bomb
Now, add some essential oils along with a few drops of black food coloring into the mixture and combine them smoothly for one final time
Finally, pour the mixture into some ball size bath-bomb molds and set them into your freezer for 2-3 hours to set the right form
After that duration, all you need is just put one bath bomb into a mug of water and mix the water into your bathtub when the bomb is completely dissolved into the water.
3. Without Citric Acid Lush Bath Bomb DIY:

This is a wonderful bath bomb recipe that not only enhances your skin with its healthy ingredients but also, revitalizes your mood with its flourishing appearance. Let's find out how to make this pro-like bath bomb easily at home following the simplest DIY process ever-
Supplies You Need:
1 cup baking soda
½ cup cream of tartar
½ cup Epsom salt
½ cup cornstarch
2 tbsp coconut oil
2½ tbsp essential oil
¾ tbsp purified water
A few drops of any preferable food coloring
1 large mixing bowl
1 small mixing bowl
Bath bomb molds
And a mixing spatula
How to Prepare:
Take all the dry ingredients in a large bowl and whisk them well with a spatula until they form into a smooth mixture
Now, take coconut oil, essential oils and ¾ of purified water into a separate mixing bowl and combine them well with a spoon
Now, slowly drip the wet ingredient mixture into the dry one and mix them well together
Check the consistency of your mixture with your hand and then, divide the whole mixture into 2-3 separate bowls to mix different colors in your lush bath bombs
Add a few drops of three different food coloring into 3 bowls and whisk the dry ingredient finely with the spatula until the food coloring is evenly distributed into the dry mixture
Now all you need is just pack the mixture into both sides of your bath bomb mold and set the tightly by squeezing them together
Let it set for several hours like this, then take your bath bomb out of the mold and use it in your relaxation bath happily.
4. DIY Geode Bath Bombs:

Geode is one type of volcanic rock and an inseparable part of geology world. The mysterious look of this component fascinates us eternally and thus, having a bath bomb with the appearance of this rock would definitely be exciting for any of us. So, here we go with a geode bath bomb recipe for you which is extremely easy to prepare at your home, let's take a look-
Supplies You Need:
½ cup baking soda
¼ cup citric acid
¼ cup cornstarch
¼ tbsp of essential oil
1/3 cup of Epsom salt
A few drops of food coloring
1-2 tbsp rubbing alcohol
1-2 teaspoons edible glitter dust
1/3 cup of coconut oil
A microwave safe bowl
A spoon
A mixing bowl
Paintbrush
Bath bomb molds
How to Prepare:
In stage one, take ½ cup baking soda, ¼ cup citric acid, and ¼ cup cornstarch into a mixing bowl to combine them well
Now pour the essential oil into this mixture and mix them up finely with a spoon until the mixture get the right consistency for a bath bomb
Then, put some mixture into the half of ball molds and keep the middle part curvy like a bowl shape
Let the mixture set into the mold for a few hours and prepare the second part of your geode bath bomb in this gap
In this stage, take 1/3 cup of Epsom salt and divide them evenly into two separate bowls
Take one bowl, add a few drops of any preferable food coloring into the salt mix the color evenly into the salt
Now, take 1/3 cup of coconut oil into a microwave-safe bowl and melt it down on a medium heat
Then, take ½ tbsp of color-free white Epsom salt and fill one bath bomb bowl after taking it out from the mold
Fill the center part with the colored-Epsom salt mixture and load the entire bath bomb bowls reportedly like this
When you fill all the bowls like this, pour a few drops of melted coconut oil over the top on each piece and let them set for several hours uninterruptedly
After the duration, mix 1-2 teaspoons of edible glitter into 1-2 tbsp of rubbing alcohol and paint each bath bomb with this grey color on the outer surface
Once the paint is dried well, use your DIY geode bath bomb in your relaxation bath and get the inexplicable experience of geology world easily at home.
5. DIY Bath Bombs with Lemon Juice:
Any type of citric flavor is beneficial for skin enhancement, thus it would be great if we can get the goodness of critic fruit in our relaxation bath, isn't it? So, here we go with a brilliant bath bomb recipe using lemon juice as one of its base ingredients. Let's check it out and get the benefit of lemon in your bath for a better skin type-
Supplies You Need:
½ of a whole lemon
½ cup of baking soda
½ tbsp of coconut oil
9-10 drops of citric essential oil
Cupcake liners
Some glitters or threads
An empty spray container
A mixing bowl
And spoon
How to Prepare:
At first, cut the lemon into half and squeeze the whole juice from ½ part of lemon into an empty spray bottle
Now, take baking soda and coconut oil into a mixing bowl and combine the well until they mix well with each other
Then, add essential oils into the bowl and mix the whole thing repeatedly with a spoon until you get the right consistency for the bath bombs
Now, take the lemon juice and spray it out into the bowl over the baking soda mixture in a slow yet steady speed
Keep mixing the dry mixture with your other hand while spraying the lemon juice into this bowl to avoid any type of unwanted reaction into the mixture
Once you feel that the entire ingredients are merged well, take a cupcake liner and go for the final stage of bath bomb making immediately
In this stage, you need to spread some glittery component at the bottom of a cupcake liner and fill it up with the bath bomb mixture in layers
Spray some lemon juice after spreading every layer and then, fill the entire cupcake liners similarly to get a handful of bath bombs for your future uses
Set the bath bomb into the liner mold for a couple of hours and then, take them out of paper mold carefully to store in a bowl or container for regular use.
Few more Bath bomb Inspiration Ideas
.@vat19 built a 2,000-pound bath bomb for a pool 👙 pic.twitter.com/VDtzDk3E4g

— Insider (@thisisinsider) November 2, 2018
Rose Bath Bomb 😍 pic.twitter.com/j3ZUnXmtip

— EdenBathEssential (@BatheEden) October 25, 2018
https://twitter.com/JoeQueenHill/status/1057825163713097729
Paradise Bath Bomb with coconut oil and shea butter added. #handmade #bathbombs #fizzies #handmade #relax #greatgift #aromatherapy #smallbusiness #pamperyourskin #bathandbody#marystreasuresllc1.com pic.twitter.com/rBCNHMDsP5

— Mary's Treasures LLC (@marystreasures6) October 31, 2018
https://twitter.com/pearlbathbombs/status/758035016324517888
Sky of blue & sea of green – or maybe pink & yellow? Check out this #bathart that the #FreshNewLush Yellow Submarine bath bomb created! pic.twitter.com/N5yan61phx

— Lush Austin (@LushAustin) July 30, 2017
DIY Lush Bath Bomb
Updated Before November 2018
We have shown you about several types of homemade soaps in our some previous articles, which all are individually different from each other. Today we are come up with a whole new category of DIY bath soaps which are crafted view of the mysterious galaxy! Galaxy is that particular cosmos area which is filled with unknown and unsolved mysteries that eternally lure us from its every single aspect. Hence, it would great if we can craft some bath bombs in the pattern of that world. Let's check out some simple procedures about how to make such bath bombs at home. We are going to instruct you with the making process of bath bomb first and then the galaxy bath bomb, in this article ahead-
DIY Bath Bombs
Supplies Needed:
To make attractive bath bombs you need, a big mixing bowl, a glass container, a mixing ladle, some bomb molds, 1 cup baking soda, some citric acid, 1 cup corn flour, 2 tbsp of Epsom salts, 2 tbsp of olive oil or any kind of body oil, food coloring and some water.
Instructions: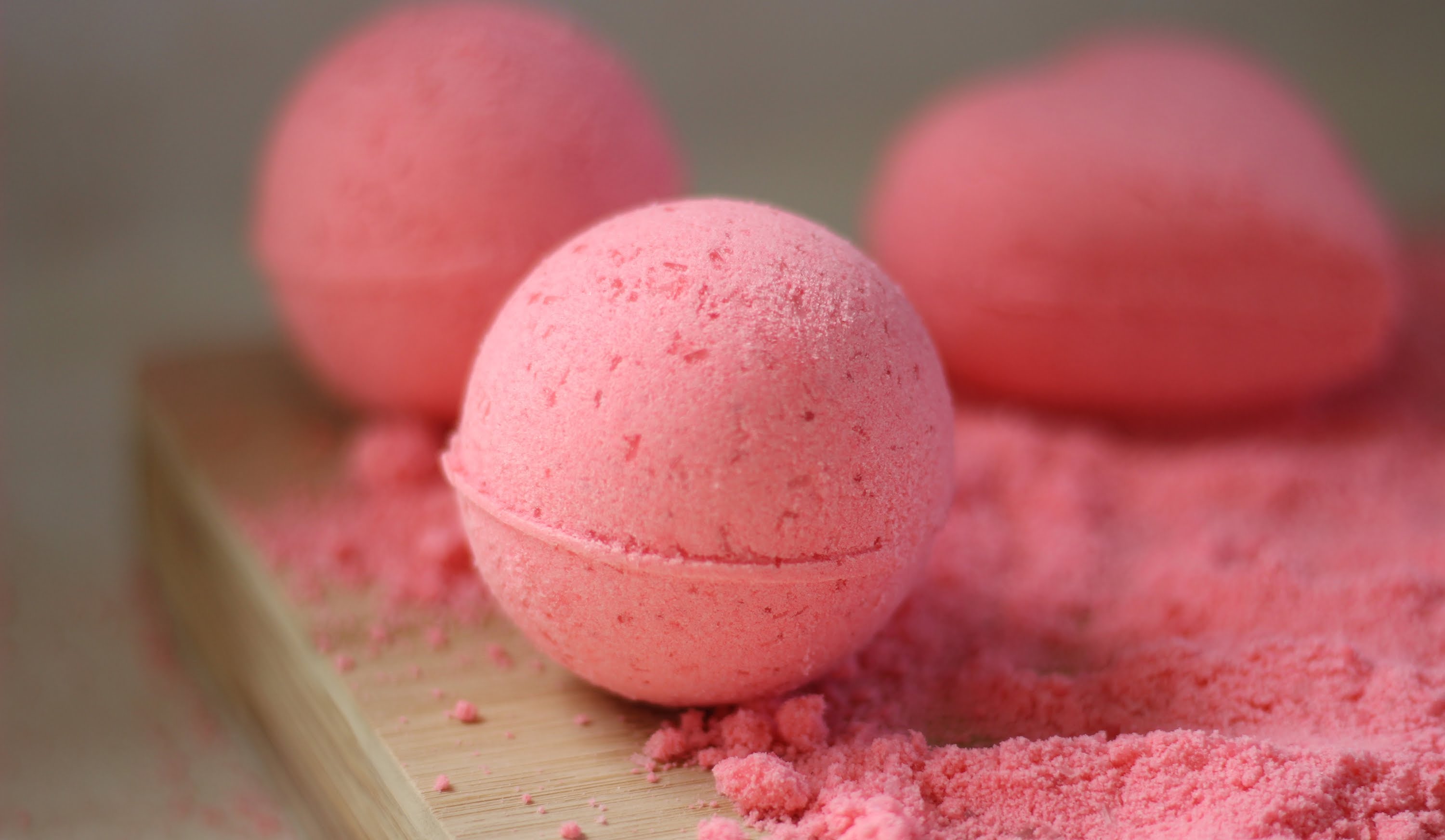 At first, take all the dry ingredients into the mixing bowl like the baking soda, citric acid, corn flour and the salt.
Stir them with the ladle and make sure that they are evenly combined with each other.
Then, take the glass container, pour all the liquid ingredients into the container and add a few drops of food coloring.
After mixing the entire liquid ingredients with a spoon, pour in the liquid mix into the dry ingredients. Simply whisk the liquid mix slowly and steadily and keep moving the ladle continuously so then, the mixture can't make any sub-dough into the bowl.
When you completely pour the mixture, stir the whole ingredients rapidly until you get the right consistency.
After whisking them well, take some molds and put the mixture into the molds and seal them up.
Leave them for a while until they get the solid consistency and finally, take out the molds and preserve them for your daily use! Mentionable here that you can use some flower or fruits essence into the mixture to get some heavenly fragrances in your bath bombs!
You may be interested in homemade bathroom cleaners and homemade galaxy soap.
DIY Galaxy Bath Bomb
Supplies Needed:
To make this super classy galaxy bath bomb you need, 1 cup of baking soda, ½ cup Epsom salt, ½ cup of corn starch, ½ cup of citric acid, 3 tbsp of any type of oil, neon food coloring with different shades, lots of different patterned glitters, one big mixing bowl, some medium sized melamine bowls and some bath bomb molds.
Instructions:
At the initial stage take the mixing bowl and add all the dry ingredients into that bowl one by one.
Mix them well and then pour in the oil into that bowl and stir again.
After adding oil to the mixture, stir the whole mix for a few while until the ingredients blend consistently.
Now, bring those medium bowls and take some of that in every single bowl.
Then, add a few drops of food coloring into each bowl and make sure that you are choosing a different color for each bowl. We will recommend you to make those colors which can remind you the view of our mysterious galaxy!
After adding the color, stir the color into the mixture very well with a ladle or spoon and then add various types of glitters in every single bowl.
Now fill each mold with various colors of the mixture, you can add all the coloring mixture in a single place and then pour them into the molds if you want!
However, fill each section of a mold by overflowing with this galaxy mixture and then press them together with other pieces.
Then, keep them in a cool place to solidify properly and finally, remove the molds and take the bath bombs with an exact flaunt of our mysterious galaxy view!
How about homemade diy lotion bars give a try.