Outdoor is that area of our residence, which we always love to decorate with new renovations. These experimentation seem more delightful if we can afford them in a low-priced way, isn't it? Recycling or reclaiming products to make some outdoor furniture would definitely be a superb idea for such attempts! Hence, let's check out some DIY process on how to make a nice wooden pallet outdoor table in an effortless way. People, who are looking for some serious makeover for their outdoor vicinity, can embellish their place with these DIY crafts in a really inexpensive way. Check out the procedure below-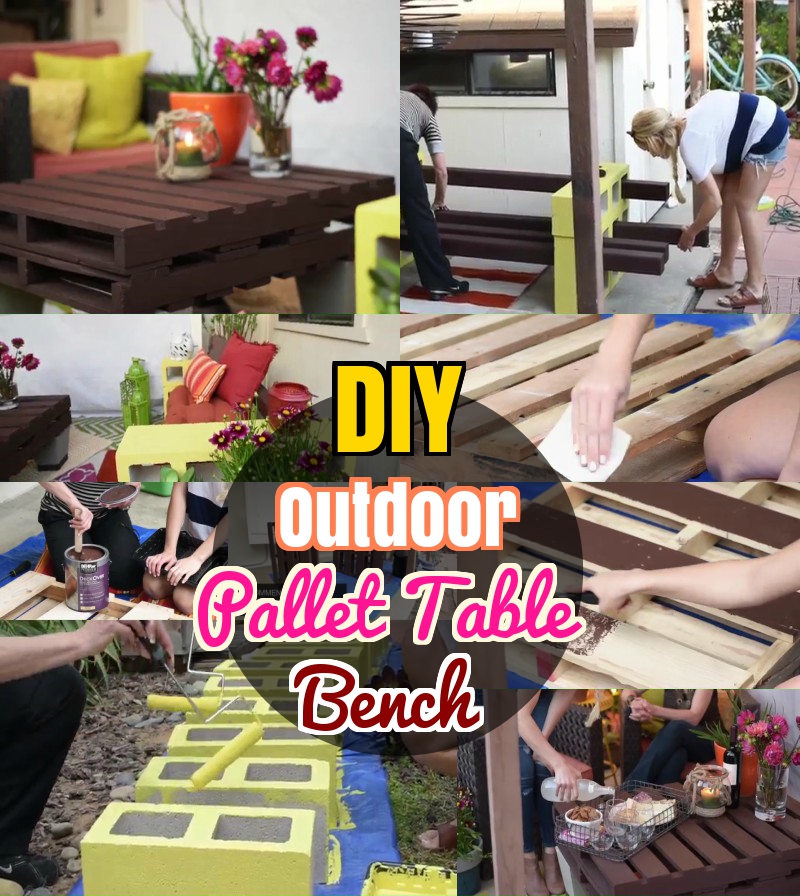 DIY Outdoor Pallet Table
Materials Needed:
To make this table you need, two giant square pieces of pallets, sand paper, brown or chocolate wood paint, coloring roller, and a container to pour the paint.
Instructions:
At the initial stage, take a piece of sand paper and lightly scrap the pallet pieces to get an average smoothness on the surface. Before scraping the pallets, try to place them over a plastic canvas to avoid any messiness from the pallet dust.
Make sure that you remove all the uneven part from the top and edges, but, you don't need to be perfect in this segment as, a little imperfection will provide you table a rustic look that goes remarkably with an outdoor circumstance.
Now, pour the brown paint into the container, dip your roller in the color and start coloring your pallets in a fun way. Don't leave a single corner of the pallets from coloring and you can even use a paint brush to color the inside sections of your pallet.
When it's all done, let them dry for a few hours under the sun and check whether the chocolate brown layer dried out properly or not!
Once it gets dried, put four strong pedestals with the measurement of 15-18 inches each, and place your pallets one by one over those pedestals
Now all you just have to do that decorate your table with some nice flower vase, candles, and plant pot.
If you are looking for a nice sitting place too with this pallet table then, let's take a look at the processing of a bench by truly the easiest DIY way ever! Here we are referring the simple making procedure of a portable outdoor bench with some simplest items.
DIY Cinder block Cushioned Bench
Materials Needed:
To prepare this product you require, some concrete blocks in the shape of numeric '8', yellow color, a container, a roller and some parallel wooden pieces along with the chocolate brown color and a piece of sand paper.
Instructions:
At first, make your concrete blocks by using cement and water. You can even buy these blocks from any hardware stores if you want to skip this part of your DIY procedure.
Now, take the wooden pieces, and clear the surface with a piece of sand paper, as we did for the pallet table.
After clearing the wooden pieces, paint them up with the chocolate brown paint and let them dry for 1 or 2 whole days.
At this moment, paint out those concrete blocks with the yellow paint and let them dry as well for a whole day.
Now, all you need to do is that place those blocks in 4 by 4 by dimension and put those wooden pieces in between the holes of our concrete blocks.
Finally, you require decorating this bench with a spongy, comfortable mattress along with some lovely cushions.
Video DIY Outdoor Pallet Table and Backyard Cinder Block Bench