This summer season is the time to adore watermelon, thus we are trying to incorporate a theme of this juicy fruit in our every single crafting attempt! We have already elaborated a lot about watermelon stuff in different kinds of meadows. In addition, we have detailed a few patterns on  colorful crayon candles and pressed flower candles. So, how about merge these two crafting categories together to get an innovating yet outstanding amalgamation? Today, we emerge with that type of a material which we call 'watermelon candle'. If you are looking for a captivating flaunt for your outdoor, then, these candles are the best components to decorate your outdoor with a truly fascinated view. Let's check out the making procedure of this wonderful element below-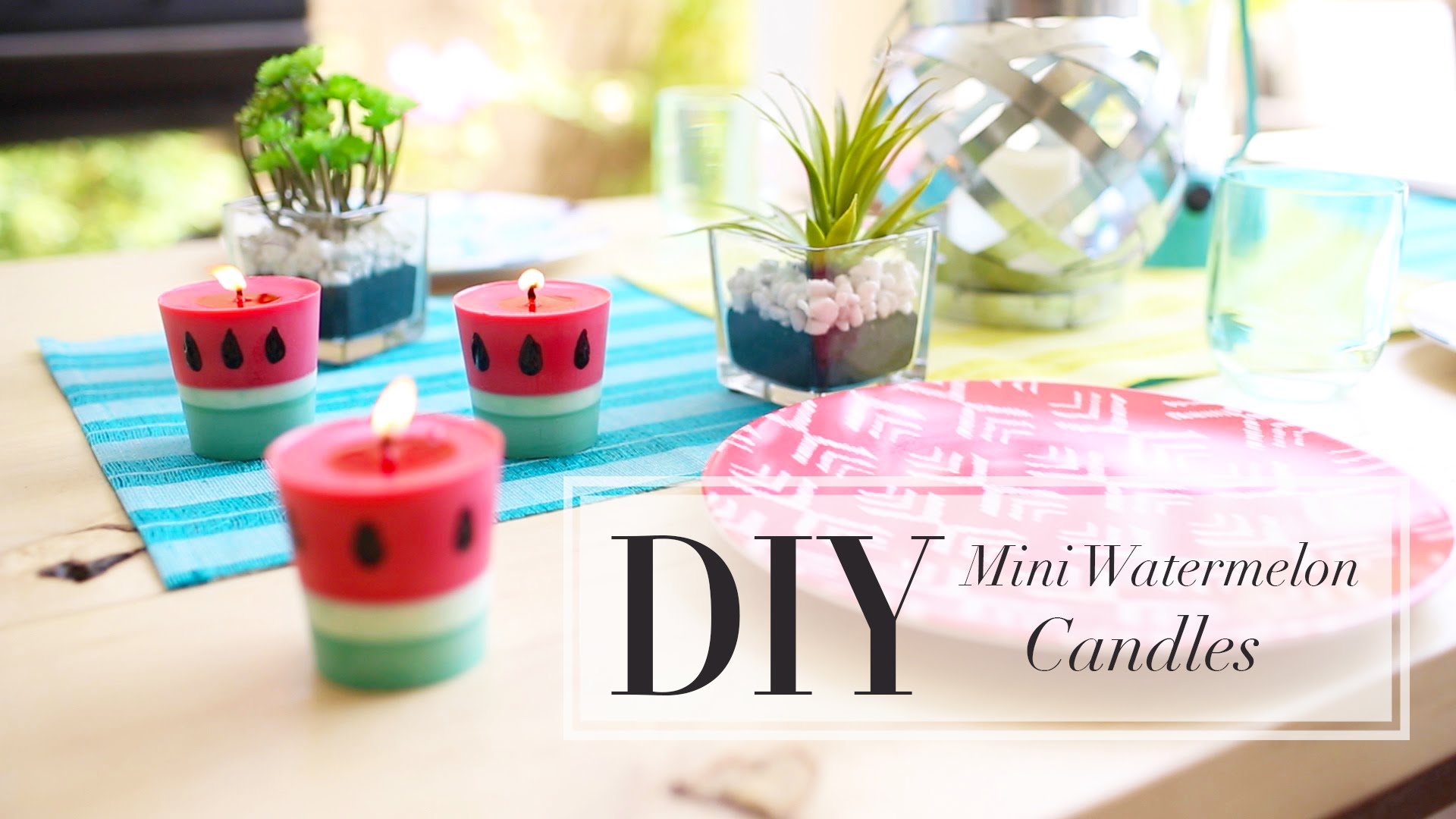 DIY Candles : Mini Watermelon Candles from Ann le


















Materials Needed:
To make this item you need, some candle wicks, some paper cups, some grated candle wax or beeswax, citronella fragrance oil or any other scent as per your choice, color crayons or color pigments, a knife and three double boiler or microwave safe containers.
You may also be interested in homemade DIY lip balm.
At first, separate those grated candle wax into three different containers.
Add 2-3 tiny red color pieces into a container and a bit of green color into another container. Leave the rest container as we need some portions of our candles in white shade.
Now, melt those waxes y setting them in your microwave or you can put your container into the hot boiling water.
Then, prepare your cup by placing the candle wicks appropriately and for that, you need to spread some glue on the bottom of your candle wicks and set them on the center bottom of your cup.
After melting your candles wax along with the color, make sure that you add some essence oil into the green wax container to get the properly scented candles.
Now, pour in some of this green melted wax in the measurement of the quarter of your cups and place them into your freezer to solidify completely. Put one Popsicle stick over the each paper cup to support your candle wick.
Then, take out those cups after a while and spray some rubbing alcohol before adding the next layer of wax.
Now, pour on the second layer of wax which must be a colorless melted candle wax.
Let them set in your freezer again to solidify and after the white wax is set, it is now time for pour in the red wax.
After your wax is completely set, cut your extra candle wick from each candle.
Now, slip a little piece of the paper cup and then rip it off with your hand. Do the same with all cups and candles wicks.
Finally, it's time to decorate the candles to provide the final touch and for that take some craft paint and draw some black seeds over the red surface of your every single candle. Now, all you just need to lighten up your candles and fill your desiring place with a captivating glance of these watermelon candles.
How to make Colorful Watermelon Candles