Gardeners always seem eager to do something good for their garden, and they resemble even more anxious while it is the matter of worms or composting for their garden soil. We have definitely learned a lot about gardening in our growing tomatoes article and discovered a bit of backyard decorating in our rock garden ideas article; isn't it?
Today, we are going to learn about one more essential part of gardening, and that is composting. In this contemporary era, it cost a lot of money, if we try to buy some good compost, and worms for our garden soil, thus, it will be a great idea if we can make some compost at our own garden with the DIY methods! Today, we are suggesting you some easy tricks to prepare garden worms and compost within a low budget along with some truly effortless actions. Check the ideas below-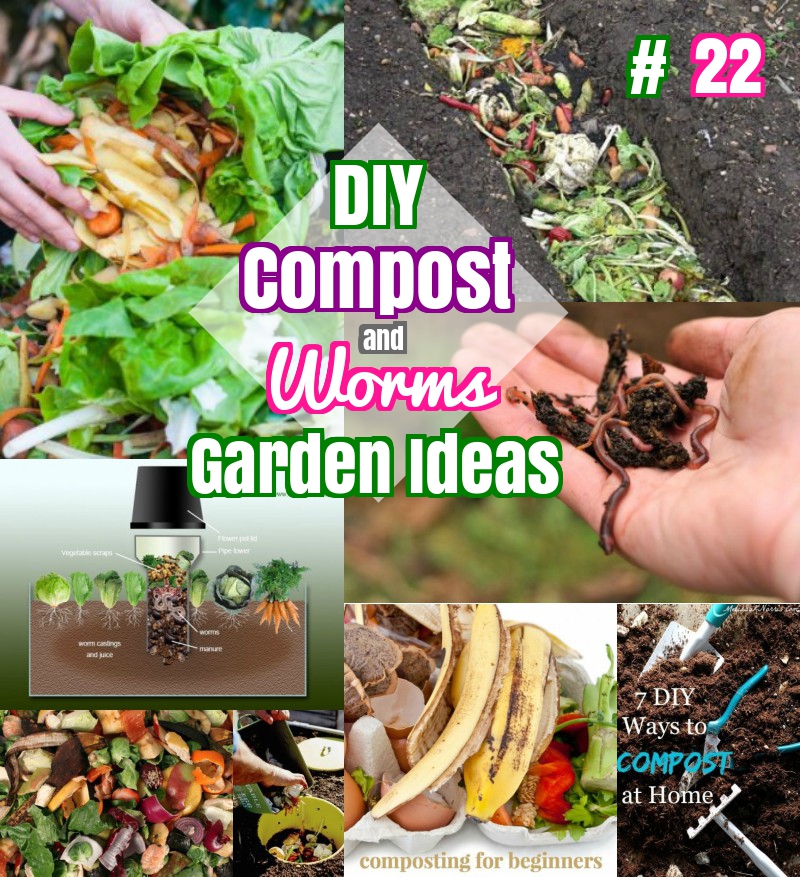 Garden Ideas on a Budget : Compost
How to make Compost for my garden

What we definitely need to make our DIY compost at home is a bin or compost tumbler at the initial stage. Set the bin at the right place of your garden and make some holes in that bin with a drill, so then your compost could get enough air from nature.
How Can I Build a Worm Tower in My Garden

To get the worms and compost at once, you can build a worm tower in your garden with some natural, composting materials, like vegetable scraps, egg shells, shredded newspapers, dried leaves, etc. along with some worms inside the tower. Place it in between your plants and your garden plants will naturally drag the nutrition from the compost tower in a natural manner.
www.apartmenttherapy.com

People, who want a hassle-free process for DIY composting, can organic fertilizer system from their kitchen waste. All they need to do is just make a watering system from the plastic bottle; set the bottle in upside down the pattern and fill it with organic fertilizer. You can make the fertilizer with some old and rotten vegetables along with compost tea.
What to do and What not to be done for Garden Compost

Worm Farm for Own Use or to Make Profit From it

Making my own Compost Picture Ideas from HGTV

You may be interested in raised bed garden ideas too.
Basic Garden Ideas for Composting

Improving Garden Soil without Compost Heap

Easy Gardening : Ways to Start Garden Compost

One of the easiest ideas to compost with a low budget process is to conceal some organic waste under the soil for a while. This way you can get a wonderful category of compost that emerges with truly an effortless way! All you just have to do that dig a place in your garden with a huge quantity and pile some rotten veggies, fruits and other kitchen wastes into that gap, cover the hole with soil from the top and let them transforming in the best form of natural composting which sometimes come up with a few little worms as well!
Garden Ides How to Make Use of Chicken Poop Into Plant Fertilizer

Want a indoor herb garden do it yourself.
 Simple Method of Compost for Easy Gardening

Beginner Garden ideas for Creating Compost

Step by Step Beginners Gardening Ideas to Create Compost

Winter Season Compost Creation

To Make Better Soil We can Use Leaf Compost too

 DO it Yourself Worm Tower

Gardeners, who want to get thicker worms for their plant soil can preserve some worms with fertilized bedding for a while and then add that product to their soil directly. This type of compost is known as vermicompost in the field of gardening.
Amazing DIY Compost to get Better Yield from you Garden

Worm Plunger Clever Small Garden Composting

Gardener's Friend Worms to Create Compost from Kitchen Waste

 DIY Methods How to create My Own Garden Compost

DIY Aerated Easy Compost Heap Bin

Garden Compost from Banana Peels, Egg shells and Kitchen Scrap

These are a few easy ideas for composting and supplying worms to your garden soil, which can be applicable for any beginner in this gardening meadow.
Save
Save
Save