We have already referred why some particular appetizers are good for the scorching season of summer in our previous Summer Salad Recipe article; today we are going to take you directly to recipes which are tremendously scrumptious and specifically categorized for the season of summer, check them out-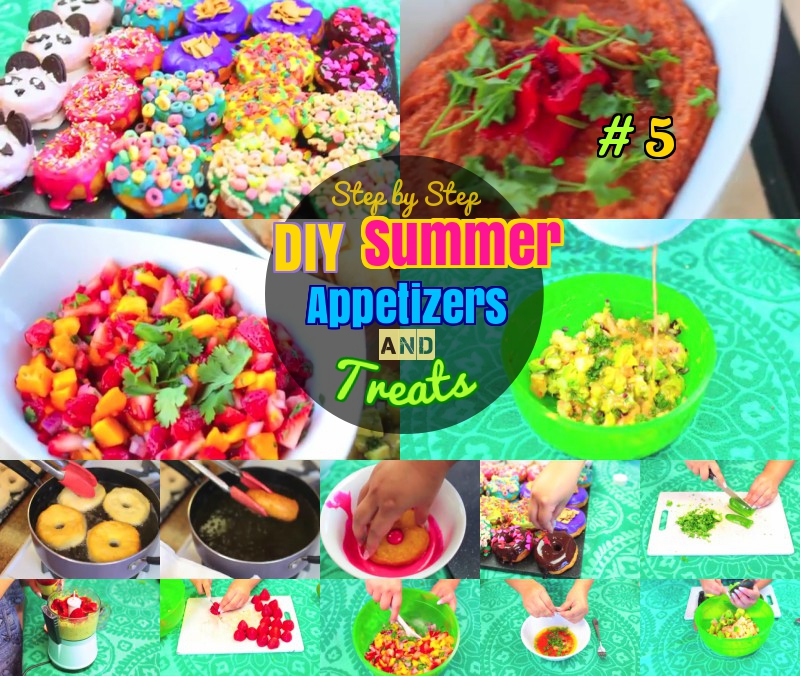 California Donuts Recipe:
Ingredients:
To make this dessert item, you need biscuit dough and some vegetable oil; for donut glaze take 1 cup whole milk, 1 tbsp vanilla extract, 1 tbsp almond extract and 2 cups powdered sugar.
How to Make:
At first, take the vegetable oil in a saucepan and heat it up at your oven, during this time, make some gigantic balls from your biscuit dough, spread some flour on the kitchen desk and place those balls over the desk.
Take a lip of a bottle, press it forcefully in the middle of each ball, with this process you can actually take out one circled portion from each ball, press those items with your hands and you will surely get exact shape donuts, isn't it?
Now, dip them into the vegetable oil and fry until golden brown. You can fry those donut holes as You can fry those donut holes as well if you don't want to waste any part of it!
When donuts are fried properly, take them out and put them on a paper towel to soak the extra oil from them.
After that, make the glaze for donuts by pouring all the ingredients one by one in another saucepan, cook them on a low heat for a while, and string them well until you get a smooth paste of it.
Now, pour this sugary liquid into different bowls to make it in various colors.
Add cocoa powder into one bowl and different types of food coloring into different bowls. Blend them well with the liquid to get the colorful syrup in a smooth beverage.
Now all you just need is to dip each donut in one particular bowl and top them with your desiring toppings like cinnamon sugar, colorful cereals, nonpareils, sprinkles, etc.
You may also love our Summer Lemonade Recipes list.
Roasted Red Bell Pepper Hummus:
Ingredients:
To make this item you require, 16 ounces chickpeas, 6 ounces roasted red bell peppers, 1 seeded and diced jalapeno, 3 tbsp chopped cilantro leaves, 1 tbsp paprika, 3 tbsp chopped onion, and ¼ cup extra virgin olive oil.
How to Make:
At first, roughly chop some cilantro leaves on your chopping board along with jalapeno without seeds.
Place them into a blender, blend them for 1 or 2 minutes, then, add chickpeas into the mixture and blend again for 20 seconds only.
Then, open the blender lip and add roasted red bell peppers into the blender and blend again for a few while.
Open the blender for one more time, add a bit of garlic powder, some honey and a little bit of paprika and olive oil, finally, lend them for one more time!
Now all you need is to pour the mixture into a serving bowl, garnish it with some pieces of roasted bell pepper slices and serve it with some tasty toasted pita bread!
For Popsicle Recipes :Summer Popsicle Recipes.
Ingredients:
To make this spicy salsa you need, ¾ cup diced strawberries, 2 small mangoes peeled and diced, 1 jalapeno that is seeded and minced, ½ of a big red onion, some cilantro leaves, 2 tbsp fresh honey, and ½ of a whole lime.
How to Make:
At first, diced your fruits on a chopping board and if they are already chopped then take them on a massive mixing bowl.
Then, take the piece of your red onion and roughly chop it into tiny pieces, add these pieces into the bowl.
Now chop your cilantro leaves finely and sprinkle over the diced ingredients.
Squeeze the lime slice over these mix ingredients and pour the honey from the top of the bowl.
Now all you just have to do is stir all the ingredients well with a ladle and serve this colorful salsa on a nice serving plate.
Some more easy party appetizer recipes for you.
Avocado Shrimp Salsa Recipe:
Ingredients:
To make this delicious recipe you require, 2 pounds boiled or steamed shrimps, 2 ripe avocados, and ¼ cup diced red onion. For the dressing you need to assemble ¼ cup extra virgin olive oil, ¼ red wine vinegar, ½ tbsp garlic powder, 1 tbsp chopped parsley leaves and 1 tbsp Dijon mustard.
How to Make:
At the starting stage, de-vein the husks from the boiled shrimps and try to take different sized shrimps together for this preparation. After that, remove the tails and cut them into medium size pieces, place them into a large mixing bowl.
Then, take the avocados, cut them from the middle and take out the seed carefully. After that, slice the pulp with a sharp knife when it covered inside the husk and then take them out in your mixing bowl with the help of a spoon.
Now, add the diced red onion into the mixture and mix them with a ladle.
Then, make the dressing in a different bowl and for that take a small mixing bowl, take all the dressing ingredients into that bowl and blend them well with a fork.
Now, all you just need to do is that add your dressing into your salsa and serve it immediately on a serving platter.
DIY Summer Snacks and Treats
There two more recipes are referred here along with these 4 tasty preparations; you can also try them as a yummy summer appetizer if you want!
Save