Fire truck or fire engine is that vehicle which designed mainly for firefighting functions. Most of these kinds of transporters are manufactured with a red and white combination. To make our kids more aware towards this imperative segment of our life, we often attempt several acts, so why don't you include this whole processing as a theme for their birthday celebration! Well, this is all new in trend to apply some significant method as the theme in a kid's birthday bash; hence, applying a fire truck or firefighting party theme in a birthday commemoration would not be a bad idea at all! Let's check out some of the brilliant ideas over this theme-
Fire Fighter Firetruck Birthday party Inspiration

Fire Truck Firefighter Fire Extinguisher

A fire truck and firefighter birthday party must incorporate the proper shades of the fire trucks which are red and white, the perfect color of fire that is a yellowish orange color, and above all some fiery logos on all over the party elements, whether they are food items, decorations, games or birthday cake!
Adventure Fireman Party Eat the Matches

You can embrace some fire-related objects in your party, as in, matches, flame, etc. in your several party sections.
Fire Truck Cake

 Fire Engine 2d Cake

Birthday cake must adorn with an apparent image of a fire truck when you are selecting a firefighter theme for your commemoration!
Fire Truck Fireman Birthday Party

Fire Cupcakes to Gulp

Flame is considered as the signature symbol of a fire truck party, so, you can apply this image in your various party fragments as well! Such as, decorate the party hall with flaming paper decorations, arrange some cupcakes in red, yellow, and orange shades along with the colorful creamy flames.
noshsiplove.wordpress.com
Fire Truck Birthday Party Decor Ideas

blog.hwtm.com
 Donuts Fire Truck Wheels

A truck could not run properly without a tire, right? So, make some chocolaty donates and emphasize them as the fire truck tire in such party celebrations.
 Stop Drop and Roll

Firefighter Birthday Party Food ideas

 Fire Truck Dalmatian Cake

nicoles-confectionscakescreations.blogspot.com
Fire Truck Themed Birthday Party Fireman Fuel Idea

You can highlight the party drink as a fireman fuel heading. Fireball snacks would suit as a nice appetizer in this type of party! Orangey drinks could emphasize as the flaming jello, white marshmallow pops could use more perfectly in this kind of theme, especially, those come with orangey sugar dust!
 Multi Colored Fire Swirls for Cupcakes

bekicookscakesblog.blogspot.com
Fireballs Eat Them Up

Fireman Firetruck Party Decor and Games

 Tutorial for Making a Fire Engine Truck Cake

bekicookscakesblog.blogspot.com
Firetruck Bubble Favor Party Ideas for Supplies

 Blaze Gulp the Flaming Jello

www.crowningdetails.com
 Fire Decor with Tissue Papers

Fire truck Birthday party Celebration Inspiration Cake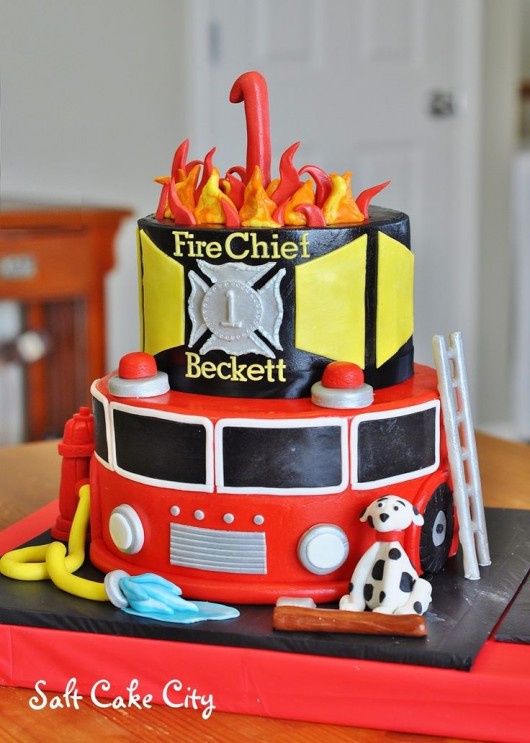 Put of the Fire with Water Balloons

Fire Fighter Birthday Party Game Ideas

Game or party activity area is that portion, where you can exploit this fire truck and firefighting theme more beautifully. Arrange some racing game of reaching the fire destination with your guests along with your little one or putting fire with water balloons as another great game in this sort of party! Throwing object out of a fiery base would be another wonderful entertainment in this kind of celebration, for sure.
 Party Adventure Game Ideas

www.kraftykaren921.blogspot.com
 Fire Fighter Foam to Put of the Fire – Fire Cup Cakes