People, who lived in winter-prone regions, know the value of fire pit and a good firewood collection. Autumn is the perfect time to assemble an adequate amount of firewood in your storage that could keep you warm during the whole frost season.
It has been seen that firewood must be seasoned in the proper way to produce proper heat or safe burning session. Hence, stacking firewood also requires a precise process of gathering the tree logs in their proper condition which helps them to burn strongly into the pit.
Some people choose to stock the firewood in their garage or under a shady roof or near house structure. This time, a person must ensure that the stocked firewood doesn't instigate wood-infesting insects or termites in its gathering.
You also should check that the firewood storage doesn't block any part or entrance or backyard area of your house with its huge piles. Today, we have come up with some outstanding ideas about how to get a perfectly organized storage for your firewood stock in your own yard. These ideas will help you to keep the proper conditions of firewood even during the inhospitable weather of winter as well! Let's check them out and make your own firewood storage through a simple DIY process easily-
Firewood Storage Shed Ideas:
Firewood storage shed plans help to keep your stocked fire log protected and in the perfect condition despite the harsh weather of winter.
During the frost season, firewood goes through in some inhospitable circumferences, but a properly built wood-storage shed could keep your stock safe and dry enough to burn with perfect intensity.
If you want to maintain the perfect condition of firewood then you must keep them off of the ground and under a fairly-exposed yet shady spot. So, here we go with some clever firewood storage shed ideas which are affordable to build and solve the huge storage problem of firewood in a simple way-
1.Build an Outdoor Firewood Shed in a Day:

Up-cycling product always teaches us how to fulfill our own requirements within a small budget and thus, here we emerge with a useful DIY firewood shed plan which you could easily build in your outdoor area within a low budget. Most of the time, our storage contains some unused fence panels, especially who have some fences around the garden or backyard area. Used pallets and corrugated roofing are also some extra recycling stuff we usually have in our collection for the utmost time.
This project will show you how to recycle those products easily to make a large firewood shed in your outdoor area in just a few DIY steps. Try to use a circular saw and cordless drill to make your shed-making process even easier for you.
Things You Will Need
circular saw
pneumatic nail gun with 1″ to 2" nails or framing nailer
level
measuring tape
cordless drill
8-foot length of pressure-treated fencing
 2×4 x 8' board
 2×3 x 8' boards
shipping pallets
apple cider vinegar
fine-steel wool
sponge
corrugated roofing panels
roof fastenerS
Build this storage shed
Tip: When you bring the firewood home it will be around 40% average moisture content, you need to bring it down to 10 – 15% to burn it efficiently
2. Simple Firewood Storage Shed Plan to Build in a Weekend: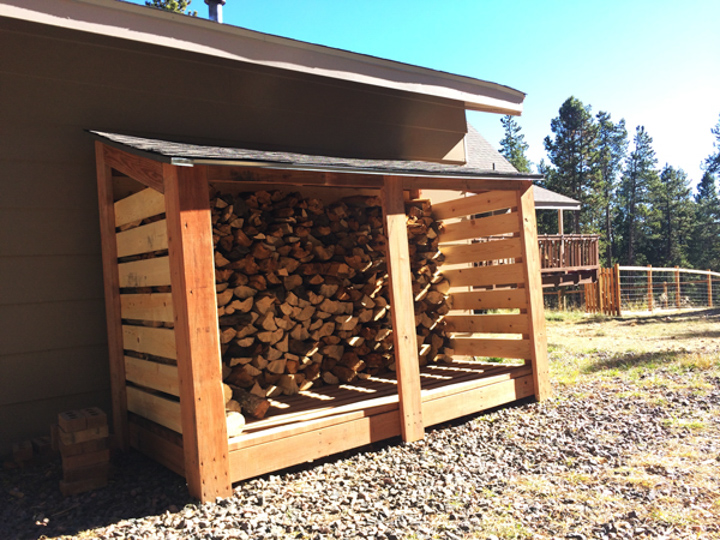 This is one of the simplest Diy firewood storage shed plans of all time which you can build quickly in your workshop in just one single day. Try to utilize 5-6 pieces of 96 ̎ long lumber pieces to get a perfect structure for moderately built firewood storage that could store a mild amount of firewood at once. Use 2 inches and 8 inches screws to assemble the lumber pieces accurately with proper tightness.
3. DIY Backyard Firewood Shed in a Day:

This project will show you that firewood storage shed is an uncomplicated craft to build if you choose the appropriate plans according to your needs and budgets. Here you can see how to craft a typically shaped firewood storage shed with the basic dimension of 6×3' construction. Just gather the fundamental tools like a circular saw, drill machinery, taping measure, framing square and enough number of lumber or pallet pieces to build the flawless structure of well-built firewood shed perfectly in your backyard.
When will my firewood be ready to burn?
As the name wood seasoning, it depends on the season and how to split and stack to ventilate and dry. On an average, it takes more than 5 months to get it ready by October. If the season and your pile is good it will ready by thr end of summer. 
4. DIY Firewood Storage Shed with Scrap and Upcycled Materials:

This is a plain firewood storage shed plan which comes with a moderate storage space that could hold an adequate amount of lumbers for a whole winter season. In this project, you need to make a simple structure of a storage place along with a secured shed over the top surface using asbestos for its roof. Use upcycled wooden pieces for the side walls and lift up the whole storage shed a little from the ground with four concrete bricks to keep them dry enough for the whole season.
Burning Wet Wood?
No its a hard job for your to make it burn
And when it burns it creates more smoke and suffocation
Also burning green wood would make your chimney sticky
How to select good and hardwood for firewood? – select good firewood
5. Build Your Own Firewood Storage Shade that Lasts for Years :

Firewood shed must keep your firewood projected from the frosting bites and at the same time, it should allow the lumbers to dry out through a perfect seasoning process. Sometimes, building a perfect firewood storage shed at our backyard area is not so difficult with some proper instructions. But things turn difficult when we need to build a storage shed with larger space, for assembling a huge number of lumbers at once. So, here we go with a simple yet useful DIY storage shed project within your selected budget and available materials.
Seasoning firewood in winter?
Yes, wood does get seasoned in winter, but not as much as it does in the spring and fall season with the sun shining high and harsh wind dries the wood.
6. Upcycle Pallets to Build a Custom Firewood Shed:

This project will teach you how to store firewood stockpiles in outdoor fire-pit perfectly despite some inhospitable weather consequences. The project is basically a recycling assignment that uses old pallets as the base material of your outdoor storage shed. Maintain perfect spacing between pallets to get an incredible air-circulation system for your firewood that will keep them dry enough to produce enough heat during their burning session. You can adjust the size of your DIY firewood storage shed depending on the availability of old pallets in your collection.
7. Cure Wood in the Interior:

Curing wood of the interior could take a longer period indeed, but the exact timing fluctuates based on the species of wood you harvest and used in your fire-pit. According to the research, the proper period of curing of your harvested wood depends on the timing of your harvest. If you harvest the lumbers in the spring, it could take 6-12 weeks to dry during the summer. But they can be dried within one summer season, rapidly if you can store them in a stimulated woodshed. So, try to split your firewood properly and assemble them accurately in a perfect made DIY storage shed to make the curing process of wood in the interior easier for you.
8. How to Build Wood Storage Shed with Cutlist and Assembly:
If you are looking for the simplest DIY wood storage shed project that could be built in the shortest period then, this the perfect pick for you. Here you can learn how to craft a small storage place for your winter firewood piles easily at your own workshop within just a few hours. Try to use salvaged wood from the storage to make the process smartly affordable in your preselected budget.
9. Build a Modular DIY Firewood Shed with PDF Cutlist and Idea: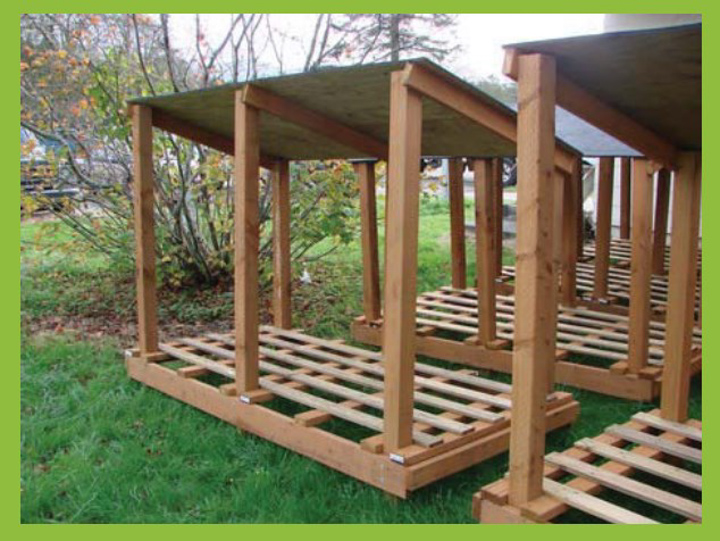 This is one more simple yet brilliant DIY process to build a firewood shed easily in your own backyard. This project will teach you to get an apparent idea of the exact proportion of wood slats which you need to use to build a storage shed structure properly. Lumber pieces with the dimension of 2×4 are the perfect pick to build the shed in an exact diagram.
10. Build a Professional Firewood Shed with Plan and Cutlist:

Some DIY lovers like to build their DIY projects only with fresh material and they always check for the fresh material to use over their budget. This project is the best choice for those people, who prefer quality over price in their DIY project. You can easily make such simple yet durable firewood storage even with some minor building experience if you gather the tools appropriately. Try to use concrete blocks to roofing your DIY shed to get the best long-lasting effect even during the bad weather of winter.
Some of the best firewoods for burning: Oak, Maple, Elm, Walnut, Red elm, Ash, and Hickory. Go for hard and medium density firewood. Always avoid pine in your firewood rack and fireplace. 
11. Design Ideas to Build a Firewood Storage Shed:
If you are looking for a perfect design for your DIY firewood shed then, let check out these pretty shed plans from the link and make your own woodshed quickly within just a few basic constructing processes effortlessly. Woodshed usually need a durable floor and a protective rooftop along with some wall panels that could keep your firewood stockpile dry enough during the whole season. These plans will suit different types of outdoor spaces easily and at an affordable rate as well.
Build this firewood shed
12. DIY Firewood Storage for Harsh Winter:

This is a completely uncomplicated yet highly functional firewood storage shed idea that will keep your wood ported not only during the winter but also throughout the whole year despite the diversity of weather. Try to use pressure-treated plywood pieces for the rooftop of your storage shed to make the project sturdy within an inexpensive budget.
13. Why and How to Build a Firewood Storage Woodshed:

Here is a large yet simple firewood storage shed idea that could be built in your outdoor spot quickly within a couple of days. You don't need to spend too much of money to build the structure, as this type of storage shed requires extremely low low-cost materials and low maintenance to keep your Woodstock pile dry enough throughout the whole frost. Keep the side panels evenly separated to make the firewood stocks dry naturally and make the air-circulation process of that place absolutely flawless.
Pint it for Later

Firewood Storage Rack Ideas:
Firewood storage racks allow us to keep the firewood collection stored in an organized way in both indoor and outdoor spaces. Storage racks are easier than a storage shed to build and you can easily include an additional storage rack slot attaching with your building anytime. Here are some utterly easy-to-build DIY storage rack ideas for you, which you can make within a few hours, without any professional skill in this field! Let's check them out and build one depending on the availability of your rack space-
1. DIY Firewood Storage Rack:

This is a simple firewood storage rack project that can easily build anytime at your workshop using just a few basic structuring materials. Try to use fresh lumber pieces to increase the durability of your rack, especially when you are making it for an outdoor destination.
2. DIY Garden Fireplace with Bench:

Making a garden fireplace bench with the storage space for firewood would definitely be a smart idea indeed. This type of storage rack solves the storing problem of your firewood cleverly along with a pretty seating option. Check out the proper making instruction in step y step method and renovate the view of your simple garden area in a diving way.
Garden Fireplace with Storage DIY
3. Easy No-tool Newbie Firewood Storage Rack:

Things you will need
3 concrete blocks
2 landscape timbers
2 2x4s – 8 or 10 footers cut in half.
This is the quickest and simplest firewood rack project that surprisingly needs no tool or carpentry machinery to be built. All you need is just a few lumber pieces along with some concrete block and a perfect outdoor spot to place it. The best part of this sort of DIY firewood rack is that it is easily moveable and comes with a reasonable budget despite its strong or stable quality.
4. DIY Rolling Firewood Cart:

Rolling firewood cart is easy to move from one place to another, despite the heavy weight of wood stock, thus making your own rerolling firewood cart would definitely be a smart idea from every aspect, especially, if you have enough indoor place for this. Try to ensure the joints of your rack with metallic corner brackets for the best durability.
Build this rolling firewood storage
5. DIY Basic Firewood Storage Rack:

This is one more smartly built DIY fir-log rack or firewood holder that could easily craft with just a few lumber pieces and some basic attaching tools.
Build this basic firewood storage rack
6. DIY Bright and Easy Firewood Rack:

This is a complete manual of how to build a sturdy firewood rack easily by recycling some lumber pieces through a simple DIY process. The best part of this type of rack is that you can use it for both indoor and outdoor spots, depending on your space availability.
Via- Build this firewood storage rack with axe holder
7. How to Build an Easy Firewood Rack & How to Take Apart a Tree:

Here is one more easy-to-craft Diy process to build a firewood rack in your own workshop with just a few basic building materials. You can keep the top uncovered if you are going to place it in your indoor storage space.
How to cut and split tree || Build a firewood rack
Few More Firewood Outdoor Storage and Indoor Rack Inspiration
https://www.instagram.com/p/BpjJ9o-B9NW/
Just for storage idea
Why not make a feature of your firewood this winter with these stylish, yet practical, log stores https://t.co/YddZoaFAbl pic.twitter.com/MKKEGWXbMn

— Harrod Horticultural (@HarrodHort) January 14, 2018
Do you have a collection of #firewood but no place to store it? Then it's time to build a firewood shed for your yard. Here are 20 plans and designs to get you started. https://t.co/GptGQyAouJ pic.twitter.com/FHypoNAoIW

— Allen Lumber (Allen Building Centre) (@AllenLumber) October 9, 2018
Prepare for the cold nights ahead. Our collection of log stores let you store your wood conveniently in one place, ready for when you need it. https://t.co/RKAmUdKNHm pic.twitter.com/VNojLS1CTL

— Woody Wood Products (@WoodyProducts) September 25, 2018
https://www.instagram.com/p/Bo9B560l_DV/
Our kiln dried logs are sourced from sustainable suppliers and kiln dried to less than 20% moisture. They give the ultimate clean burn with maximum heat output. https://t.co/yBkeDbtW01 pic.twitter.com/CP4TlWKaCf

— Woody Wood Products (@WoodyProducts) August 9, 2018
#openhaard 3/3 (of eigenlijk #gashaard)
Anyway, Looking forward… En voorzichtig op de weg hè! #interieur #inspiratie (via froghilldesigns) pic.twitter.com/9u9FI32sTm

— ❖ Esther Canisius (@esthercanisius) January 13, 2017
A wood rack helps to cure firewood better by getting it off of the ground and allowing air to circulate underneath. pic.twitter.com/bfIO0eSxnK

— Willamette Chimney (@WillametteChim) October 30, 2017
my project all weekend. In other news, my dad has been picked up by TLC for a new series #WoodHoarders pic.twitter.com/EUAIrVgFX2

— Heather Hamilton (@tjzmommy) June 30, 2013
6/27
Learn how to "Smoke With Wood"
w/@IBBQA & #Porkmafia
5:30pm A1 Country Firewood
TIX:https://t.co/YIm2428ItF pic.twitter.com/eBTbsZw8W9

— ChicagoRibGuy (@ChicagoRibGuy) June 22, 2016
Bring the firewood in but leave the bugs out!

Find out what firewood you leave outside. #firewood #fireplace #decorationhttps://t.co/dPQVTi4a46

— Firewood Factory (@GetFirewood) October 26, 2018
Previous to October 2018
Firewood is some kind of tree log or tree branches that are gathered and used as the fuel. This wooden fuel is in high demand in the winter-inclined countries, where the fire is needed on a daily basis. Thus, we can find a fireplace inside every single house of overseas countries!
Firewood is a renewable resource, that's why people used to stock this material in a massive quantity for the future reference. While these materials need to stock in a huge measurement, inevitably, they require a proper arrangement to pile on, especially, in a fully furnished house, right? Consequently, here are some firewood storage inspiration ideas to organize them beautifully, check this out-
Firewood Storage and Racks Inspiration
DIY Firewood Storage Rack Outdoor Covered Storage
Singletrackworld Firewood A-frame storage

 Firewood Storage with Plumbing Pipe Racks

Plumbing pipe racks are one of the magnificent objects that use for stocking firewood in an arranged way. You just need to make a longish rack with the plumbing pipes on a strong metal base. You can attach wheels at the bottom of your rack if you want, as this will make your firewood rack easily movable with huge weight!
 DIY Rolling Cart for Firewood

Simple and Neat Outdoor Firewood Storage

Doorless cupboards are the best item as firewood storage, while you are pilling them at the outdoor of your residence.
Focal Point Firewood Storage Indoor

When you just have to stock the firewood at your indoor section, then, go for a wall shelf, as this will keep your firewood neat and arranged in a simple way!
www.designwali.com
Firewood Holder Storage Rack Made with Upcycled Ski

 Firewood Storage with Easy to Carry Trolley

Easy carry trolley is another remarkable object to stock firewood, particularly when you need to carry out some fire woods outside of your house.
Indoor Firewood Storage Inspiration

Copper Plated Firewood Tub – Even Try Large Tin Cans

Copper plated firewood tub in one mentionable component in this regards, which is hugely available in the market now!
Firewood Log Hut You DIY with Up cycled Pallets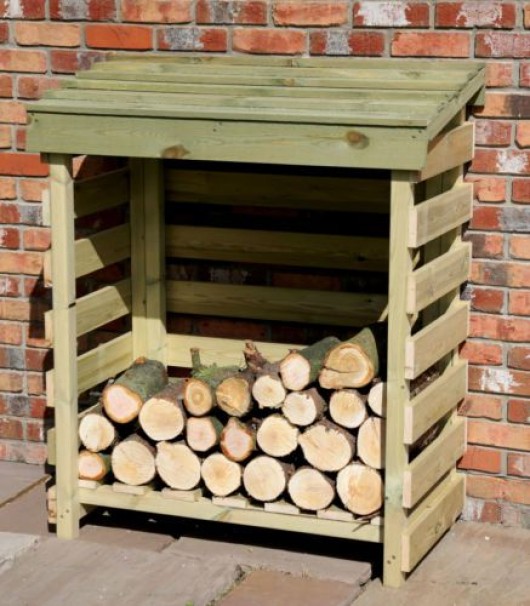 Pallet boxes or pallet made stockers are one cheapest object to mound the firewood in your outdoor.
Metal Frame Rack with Trolley for Firewood place

http://www.taragodwin.com/18478/firewood-storage-ideas-inside/
 Outdoor Firewood Storage Inspiration

Create a Firewood Storage rack with No Tools

 Use Cinder Blocks to Create Simple Storage Rack

Creative Firewood Storage

25 Iron Firewood Holder

www.onekingslane.com
Log Holders

Rod iron made log holders are another useful element that uses to store firewood in an organized way.
www.crateandbarrel.com
Firewood Storage Inspiration



habituallychic.luxury