Fairy garden literally adds whimsical accumulation to your garden area, no matter it is in your backyard or house front space. A garden or outdoor space looks beautiful with flowering plants, whether you are making a container garden, using flower beds or sow plants in planters. The beauty of this flowering garden reaches the divining level when you amalgamate it with a perfect fairy garden plan.
Common Supplies You May Needed
Large containers pots, terracotta, tin cans, buckets, Birdbath, glass bowl, an old wagon, or wheelbarrow
Growing medium: clay, soil, potting mix with fertilizer, cocopeat, or garden soil
Garden structure: Gazebo, wood log bridge, garden arch, ladder.
Decorative objects: small table, chair, jug, lamp post, lantern, signboards, miniature pond and fencing, gnome, mushrooms, swing ( toy tires or twigs will do)
Live plants: peat moss, and few miniature plants, pebbles for a pathway.
Garden huge objects: House, cottage or tree stump with door decor, wood log house.
Miniature Dolls, Toys, and Fairies
Objects found around your house: Stones, pebbles, barks, wines, short copper wires
And Crafting tools: like a glue gun, glue, scissors, cutter drilling machine (for few projects), paint, crafting air dry clay, and similar crafting supplies.
There are many alternatives you can find to use in a fairy garden theme to decorate the outdoor space according to your taste. Here we are suggesting you the top 32 ideas in this regard which will revamp the whole view of your outdoor space in a mesmerizing way. Let's check them out and apply accordingly-
DIY Magical and Relaxing Fairy Garden Ideas
1. Beautiful miniature Fairy Garden:
This is a beautiful and cute miniature fairy garden idea where you can use ordinary flower pot as the base of your fairy garden. Apply polymer clay door onto your fairy house to make the door for your miniature house and use liquid clay to make the other figures of your miniature structure effortlessly.

Generic Guide for a Miniature Fairy Garden
Step 1: Choose a Base ( Pot or Wagon)
Step 2. If possible make a sketch, how you want your fairy garden to be, positioning objects and what kind of miniature plants and miniature objects.
Step 3. Plan and gather the supplies
Step 4. Prepare the potting mix
Step 5: Add layers of gravel and potting mix
Step 6. As your plan place the plants and miniature objects ( House, toys, swing, bridge etc..)
Step 7: And finally spread the moss and grass in leftover empty places and below the garden accessories and fairy toys.
2. Fairy Garden with the Castle in Broken Pot:

See, how you can use a broken pot as the foundation of a beautifully made fairy garden miniature along with a fascinating castle in it. Use mini stone bricks to make the staircase of that castle and maintain a bushier view in your miniature garden with lots of tiny plants around the castle.
Unknown author
3. How to Make Mini Wood Bridge for Fairy Garden:

Here is a wonderful mini bridge project for your which you can use in your fairy garden decoration to provide a professional touch in it. Use wattle and rope to make the main structure of your miniature bridge and you can utilize moderately thick tree branches as the pedestal of that wicker bridge.
Build this fairy garden wood bridge
4. Turn Beach Stones into Glittering Stones for Fairy House:

This is utterly simple fairy garden idea which you can make in a marble bowl to clutch the best beachside view in its mini figure. All you need is just collect some colorful beach stone with different shapes and combine them in an organized way with some tiny plants and a miniature birdfeeder on it.
5. Make a Miniature Garden in a Broken Glass:

This project will show you that even a broken glass could give you a perfect fairy garden view if you can decorate it with proper miniature garden adornments. Use little rocks and terra dirt for the base of your micro garden into the glass. Decorate the garden with cacti and succulents around the soil surface to grab a perfect rock view in your miniature garden spot.
6. DIY Wooded Wonderland Fairy Garden:

Wooden wonderland garden is a perfect mossy hill miniature which looks amazing in a decorative garden area to increase its beauty. Use wine corks to make the artificial mushroom plants around your wonderland and clay-made mini figurines of garden creatures to make the view absolutely flawless like a true wonderland.
7. Magical Fairy Garden Accessory Set – Fairy Garden Kit:

This is a complete fairy garden accessory set with miniature garden adornments and fairy figurines. Once you have this kit, you don't need to spend any other fairy garden decoration for your perfect outdoor view. These miniature figures are made of solar glow and thus will shine in the dark during the night and keep the garden view magical from every aspect.
Build this fairy garden with Ready Kit
8. Fairy Garden Miniature Accessories Kit -DIY Garden Ideas:

This set comes with two pretty garden benches and one fairy figurine that is fluting in a beautiful way. The nice tea set on the tea table would give you a perfect garden view with these fairy figurines. Use them at the center of your garden area to get a magical flaunt in your outdoor space.
Fairy garden accessories to Decorate
9. Build this Miniature Garden Area in Pot: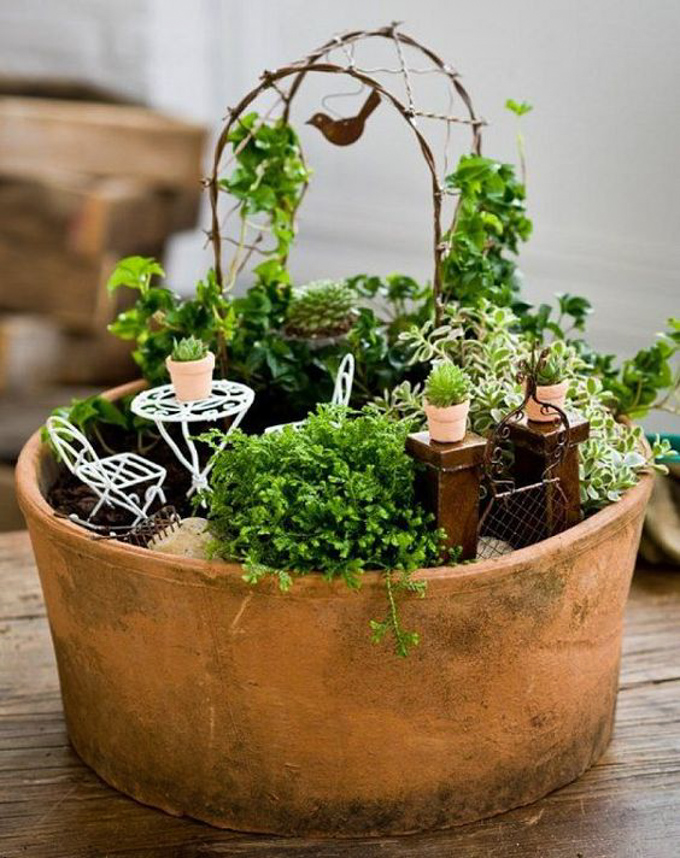 This is a great fairy garden project that contains typical miniature plants and fairy garden decorations along with a tiny tea table set. Making an unused clay pot in a recycling way will make your garden decoration attempt cheaper than your selective budget.
10. Village Vacation Style Miniature Fairy Garden Kit:

This is a supremely beautiful fairy garden kit that comes with a bunch of dollhouse decorations that gives you a perfect village vacation view with its entire mini figurines. You can get chicks, ducks, trees, stairs, mushrooms, stump, pier, and kids' figurines in this kit along with tiny houses to make your fairy garden look absolutely dreamy.
11. Turn a Wooden Drawer into Fairy Garden:

The wooden box fairy garden is a great way to decorate your outdoor area in an unusual rustic way. Here we are using an old drawer as the base of this miniature garden spot and decorate it exactly in the pattern of a normal backyard garden spot with some miniature sitting objects and decorative stuff.
Pinterest
12. Use a Terrarium Fairy Garden Kit to Decorate Your Miniature Garden:

This is a unique fairy garden kit comes with a terrarium style. This kit incorporates a pack of sheet moss, a pack of carbonized charcoal, a pack of potting soil and a handful of river rocks along with some miniature plant for the fairy garden decoration.
Check this terrarium garden kit
13. Classy Suitcase Fairy Garden:

Old suitcases also could give you a perfect fairy garden view if you can use proper equipment on it. here we are using a house figurine along with some miniature plants. The pebble-made path would give this whole process a perfect landscaping view from every aspect.
Build this miniature fairy garden
14. Hand Painted Fairy Garden Kit Fairies and Garden Accessories:

This is an absolutely fascinating fairy garden kit that comes with 6 pieces hand-painted swing sets along with pretty miniature garden benches made of durable plasters. Try to use them on your front outdoor area to get a perfect garden view with this fairy garden kit.
Check fairy garden accessories-lab
15. Fairy Garden with Wishing Well:

This is a lovely fairy garden idea, where you don't need any extra figurine or miniature objects apart from a tiny well that is made with a rock surface. Use fences and clay pedestals to decorate the whole fairy garden area appropriately and surround them with succulent plants to get the precise view of this theme.
Pinterest
16. Hand Printed Gnome Themed Miniature Fairy Garden Kit:

This cute fairy garden kit comes with figurines house set and the Gnomeo and fairy figurines increase the magical view of this fascinating garden set extraordinarily.
17. Tiny Fairy Garden with Concrete Leaf Roof:

This is literally a tiny fairy garden design that could be easily made over a small concrete base in a circular shape. Use rod-iron made garden furnishings in this fairy garden to make the view fancy on its rustic base.
Build this fairy garden
18. Miniature Fairy Figurine and Furniture:

This is a supremely beautiful fairy house miniature for a perfect fairy garden view in your simple outdoor area. This kit comes with one enchanted fairy house and two pretty fairy figurines along with a name board to indicate the fairy house accurately in your garden decoration.
Painted fairies and accessories
19. Fairy Garden with Enchanted Door:

This is one more enchanted fairy garden design that comes with a magnificent wooden door as the fancy front of a fairy house. Use pebbles to highlight the path of that door and decorate the whole miniature with some fairy figurines properly.
20. Fairy Garden Log Bridge with Rabbits and Miniature Fairies Kit:

This is a fairy garden fish pond kit that comes with a flower-decorated mini bridge along with an artificial pond below the bridge. Try to use this set at the corner of your garden area to create a magical scene in your outdoor space like a fairy village.
Check this miniature fairy and log bridge
21. Ravishing Lakeside Cottage Fairy Garden in a Barrel:

If you are looking for a pro type fairy garden idea then, this would be the best choice for you. Try to purchase a fairy garden kit that includes an artificial lake along with a miniature cottage figurine. Use pebbles, sand, and fences to make the lakeside view utterly mesmerizing from every side.
Check this lake fairy garden idea
22. Pretty Fairy World in a Basket:

This is an immensely creative DIY fairy garden idea that uses a cane-made basket as its main base. You can use any type of figurines along with the miniature plants and tiny birdhouse to get a perfect outdoor view in your mini garden scenery.
23. DIY Beach Fairy Garden Area:

Beach fairy garden idea is the best pick for the summer time which you can effortlessly create in a metallic pot on the base of moss and marbles. Use plastic toys like beach benches, caravan, hammock, etc. along with miniature plants onto the tiny garden spot to bring the ultimate beach feel to your porch or backyard area appropriately.
24. Tiny Hammock for Fairy Garden Miniature:

A garden area flaunts exceptionally classy with a hammock and that theory is no exception for the fairy garden view as well. Try to make a DIY tiny hammock using a twig and scrap fabric to craft as well as hang the swing appropriately in your mini garden area.
Miniature Fairy garden with hammock
25. Perfect Fairy Garden in Large Old Wagon:

You can make the fairy garden view more appropriately when you have a larger space to put your miniature or figurine stuff. Thus, this is a great project for people, who want to create a fairy garden area exactly in a true garden shape along with all its essential equipment.
26. Make a Fairy Garden with Pebbles and Things Around You:

Here is one more little DIY fairy garden project that uses pebbles and rocks for as its base ingredient. The simple yet rustic tree house is made of plain tree bark, while the glossy pond uses glittery sparkles for its unusual shine.
27. Fairy Garden in Grapevine Sphere:

This project will show you how to amalgamate a grapevine sphere as the base of a beautiful fairy garden. Use some figurines and miniature plants evenly to decorate the inside place delicately which could enhance the whole beauty of its snow globe resemblance more attractively.
28. Bird Bath Fairy Garden:

Sometimes, fairy garden could be destroyed by our children or house pets, in such a problem, a terraced miniature garden would definitely be a perfect solution indeed. Use old or unused birdbath or birdfeeder objects as the base of your project. Here the clay-made mini house and fairytale front decoration provide a perfect magical view in the fairy garden straight out from the enchanted fairy world.
29. DIY Fairy House Planter:

Sometimes you don't need to make a whole miniature garden area to get a fairy garden view and could get the exact flaunt with just a simple planter decoration. This project will show you how to make a simple yet fancy adorned planter with a magical fairy house door at its bottom.
30. Build a Magical Fairy Garden with Solar Lights:

At times, our all effort of beautifying the garden goes in vain due to the low light or dark garden space. This type of fairy garden with lights project will definitely solve this type of problem expertly and make our simple mini garden look absolutely divining with its shiny illumination. Try to hide the cord or electrical equipment under the base of your miniature garden to make the view flawless from every aspect.
31. Realistic Natural Tree House Fairy Garden:

You don't always need an artificial base for your miniature garden project, sometimes a fairy garden could be beautifully built on the natural base like on the tree bottom to get a perfect rustic feel. This project will teach you how to use a tree root area into a magical gateway of your enchanted fairy garden in a perfect manner.
32. Fairy Garden Decor with Enchanted Cottage:

This is one more beautiful DIY fairy garden project that uses handmade pebble-cottage as the main highlight of the fairy garden decoration.
Stone cottage for a fairy garden
Few More Inspiration
I love stumbling upon fairy gardens! Especially when they are as cute as this! #travel #getoutsideday #fairy #fairygarden pic.twitter.com/q8ennI4hRZ

— ConsistentlyCurious (@livcuriously) October 24, 2018
https://www.instagram.com/p/BpgjlfmA3Hg/
Have you entered our #giveaway to #win a Fairy Light Garden? https://t.co/1t2Anl326W pic.twitter.com/aoiAwSgadM

— Jayne (@SMABLblog) October 4, 2018
Fairy Garden Bohemian Teepee Fairy … – #fairygarden #garden #gardens #valueofdiy #diy https://t.co/sTqmv57IWF pic.twitter.com/2RByImRDTF

— DIY Fairy Gardens (@DIYFairyGardens) March 2, 2016
https://www.instagram.com/p/Bpfa_aOgVC0/
Tree Stump Fairy Door Tutorial – #fairygarden #garden #gardens #valueofdiy #diy https://t.co/qxqlAIGfdR pic.twitter.com/3qS90yWEO7

— DIY Fairy Gardens (@DIYFairyGardens) March 2, 2016
https://www.instagram.com/p/BpdPrBsAZhF/
MINIATURE MOSS GARDENS will have you on your way to fairy garden heaven in no time! #book #gardening #fairygarden #miniaturemossgarden pic.twitter.com/y0OWeQru9M

— Tuttle Publishing (@TuttleBooks) July 9, 2017
Lighted Fairy Door Garden Accent – #fairygarden #garden #gardens #valueofdiy #diy https://t.co/t1RNkPLAHQ pic.twitter.com/wDgEuMSaqK

— DIY Fairy Gardens (@DIYFairyGardens) March 2, 2016
Make An Adorable Fairy Garden Out Of A Broken Pot https://t.co/c54Pd28luP pic.twitter.com/cT4q9dYd7f

— BetterHomes&Gardens (@BHG) September 17, 2018
#Urban #Fairy Garden using @minimaterials on the next #GildtheGarden! SUBSCRIBE on @YouTube! #Miniature #Gardening pic.twitter.com/QyESONtffD

— Cheli Cuevas (@gildthegarden) April 27, 2016
https://twitter.com/shabzarlee/status/850790603331969025
Fairy Garden Pumpkin Cottage … – #fairygarden #garden #gardens #valueofdiy #diy https://t.co/ODxSAUFkCd pic.twitter.com/YVDCaGjWYa

— DIY Fairy Gardens (@DIYFairyGardens) March 2, 2016
While a large container is just a big … – #fairygarden #garden #gardens #valueofdiy #diy https://t.co/sirO4f4bNC pic.twitter.com/MWbWVsPHwc

— DIY Fairy Gardens (@DIYFairyGardens) March 2, 2016
Lyn Rezabek's fairy garden grew over … – #fairygarden #garden #gardens #valueofdiy #diy https://t.co/I5o6I9cS4y pic.twitter.com/pqPp4qxdPZ

— DIY Fairy Gardens (@DIYFairyGardens) March 2, 2016
Create a lovely miniature fairy garden. The children will love it!#fairy #miniaturegarden #fairygarden #fairyaccessories #hobbies #childrenshobbieshttps://t.co/KJsrcrotCJ pic.twitter.com/PtpXWmhZbV

— Molly's Emporium (@MollysEmporium1) January 12, 2018
Updated before October 2018
Fairies eternally mesmerize us whether we are fantasy lover or not, and this imaginary creature lures more when you are a garden lover! As fairy and garden share a special relationship with other which we generally know as fairy garden.
Fairy garden means a miniature garden that is enriched with real plants and artificial garden structure. It is told that this kind of gardening actually attracts real fairies into your house which brings good luck to your residence! Let's check out top 5 DIY enchanted garden fairies ideas in this article below-
1. Tiny Fairy Garden Inspiration

Flower Tub Fairy Garden:
Clay made flower tub would make wonderful equipment for a DIY fairy garden which is quite well available for any of us! All you need is just break one side of that tub in some step such stair to fit the fairy garden properly into your clay tub.
features.faithtap.com
2.  Magical and Pleasant Fairy garden

Wooden Basket Fairy Garden:
A wooden basket could make a tremendous garden fairy apparatus for any time, especially; those have a round or square shape. The Wooden basket has a natural vintage charm which seems beneficial to your enchanted fairy garden!
www.myunsettlinglife.co.uk
3. How to Start a Fairy Garden Amanda

It is not necessary that we always have to utilize some vessel to make a pretty fairy garden; you can even make it at one corner of your garden or under your window, where rain and sun rays can flow their blessings for countless times! Just gathered all your require equipment like the wooden house, rocks, tiny home adornments and start your fairy garden in your desiring place.
4.  Fairy garden Inspiration ideas

5.  Artistic Miniature Garden path Diy

Suitcase Fairy Garden:
Have you seen a fairy garden into a tin made suitcase? Well if not, then try it now for your DIY garden fairies design and see how much charming a fairy garden could look with a real easy processing!
6. An Affordable Fairy garden

7. Wind Chimes for fairy garden

8. Backyard relax tea table for Fairy

www.minimalisti.com
9. Fairy Garden Ideas with re purposing scraps

Tree Bark Fairy Garden:
Tree bark is another magnificent and natural vessel for a fairy garden which basically offers you comparatively a much bigger position to make the garden fairies. You can apply this style of fairy garden upon a half chopped tree bark as well as on a long tree!
10.  Rustic woody Fairy garden

m-e-d-i-e-v-a-l-d-r-e-a-m-s.tumblr.com
11. Yellow Tinkerbell like a fairy garden

Table Stand Fairy Garden:
Little plastic made table stands could also be a great fairy garden gear for a lavish drawing room! This kind of fairy garden usually resembles more attractive into your house rather that your garden.
To get the realistic touch try to add some fairy sculpture in your fairy garden. As in, insert some yellow Tinker Bell structures in front of your tiny garden, and see how much striking one fairy garden could resemble with these artificial elements!
12. Cute rest a while for fairies in the garden

Some people love to make things plain and uncomplicated and for those simple garden lovers we will recommend some easy and natural fairy garden ideas, such as, try to make one tiny wooden shelter and point it out with a smoothly chopped grass path or just highlight some little plants with a colorful alleyway made of some beautiful rocks!
13. Detox water drink for fairies

14. Fairy gardens to build with our kids

15. Swing for the fairy

You can even add only a tiny swing that made of little wooden stick and rope for the fairies in your fairy garden, to keep it simple yet eye-catchy.