Verities of snacks are our all time favorite item that eternally delights us with new and exceptional tastes. Snack doesn't always mean some oil contenting fries, sometimes; it may come up with some healthy benefits too! Today, we are emerged with three those kinds of snacks which are containing amazing taste along with some healthy advantages. In addition, you can make these items with just a few ingredients within a very short period of time! Let's check out these exclusive recipes below-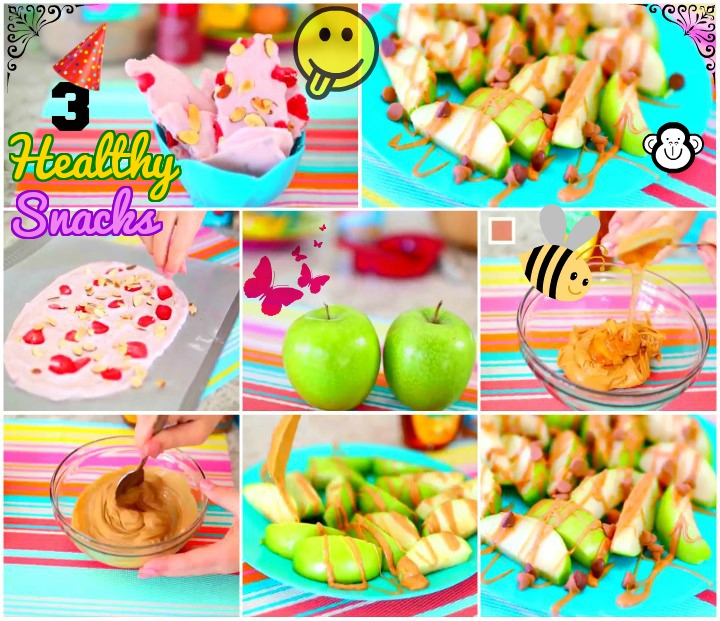 Yogurt Bark:
Ingredients:
To make this yummy snack you need, 2 packs of Greek yogurt in strawberry flavor, frozen strawberry slices, spiced almond slices, baking sheet, a parchment paper, and a spoon along with a spatula.
DIY Instructions:
At first, take out the cover from those yogurt-packs and knead them well with the spoon, so then, the yogurt would be very s
smooth and even from all sides.
Now, place some parchment paper on the baking sheet and pour the entire yogurt onto that paper.
Then, take a spatula and spread it out over that parchment paper in a very thin consistency.
Now, sprinkle some slices of frozen strawberries along with spiced almond pieces.
After drizzle, them evenly, place the tray in your freezer and keep it cool for at least 6 hours or over the whole night!
Then, just take the tray out and break apart in some uneven pieces of your tasty and healthy yogurt barks before the serving.
You may also be interested in healthy broccoli salads and Kale salad recipes.
Healthy Snacks Step by Step Pictures
Peanut Butter Apple Nachos:
Ingredients:
To make these super healthy nachos you require, 2 to 3 fresh green apples, 3 tbsp of peanut butter, 1 tbsp of raw honey, some chocolate chips, some peanut butter chips, a microwave safe mixing bowl, a serving plate and a spoon.
How to make Peanut butter nachos:
At first, slice out those apples in some thick pieces and place them on the plate.
Now take 3 tbsp of peanut butter and 1 tbsp of honey into that mixing bowl.
Then, place that bowl in your Microwave oven for at least 45 seconds over the medium heat to melt down both the ingredients smoothly.
After that, take out the bowl and whisk them one more time with the spoon.
Then, drizzle that peanut butter and honey mix over the slices of your green apple.
Now all you need is that sprinkle some choco chips and peanut butter chips over the top as a crispy topping and your super tasty apple nachos is all ready to eat!
How about some avocado salad and corn salads for healthy diet.
DIY Homemade Healthy Snacks
Peanut Butter and Chocolate Chip Cookies:
Ingredients:
To make this third or last item you need, 1 egg, 1 tbsp of brown sugar, a ½ teaspoon of baking soda, 1 cup of peanut butter, 1 cup of dark chocolate chips, a large mixing bowl, a mixing ladle, one baking sheet, and spoon.
How to:
Firstly, break the egg and take all its white and yolk part into the mixing bowl.
Then, add the brown sugar and baking soda into that bowl and start whisking with that ladle.
After mixing them well, add 1 cup of peanut butter into that mixture and start to whisk.
When you feel the dough is containing all the ingredients smoothly, add 1 cup of dark chocolate chips into that bowl and mix them well again.
After that, take one spoon of that mixture and place in a row over the baking sheet. Make sure that you keep all the pieces apart from each other.
Now all you just have to do is that place the sheet in your microwave oven over 50 degrees for 10 to 12 minutes for baking.
Finally, take out your super soft and crispy cookies and serve with some tea or coffee.
Looking for some appetizers check these summer appetizers and finger food party appetizers.