A water garden or pond garden is that dream which fetish by almost every single gardener, who adores his or her garden the most! This one object has that capability, which can renovate the whole look of a backyard with its single presence. Earlier, we thought that only plants or some gardening equipment could captivate the view of a garden. But, gradually it came to the light that a garden pond or rather say a decorative small pond can change the entire glance of a backyard mesmerizingly!
Thus, these days, several gardeners seem affectionate towards this object and try to include this item on their backyard, if they manage some additional space in their garden. People, who still feel clueless about how to place this thing in their garden, take some apparent suggestions in this matter from us with the detailing of various pond categories. Check out the designs below-
Pond Garden Ideas
Updated Pond Ideas
Container Water Garden

Glazed Terracotta Water Garden

Backyard Pond Garden Inspiration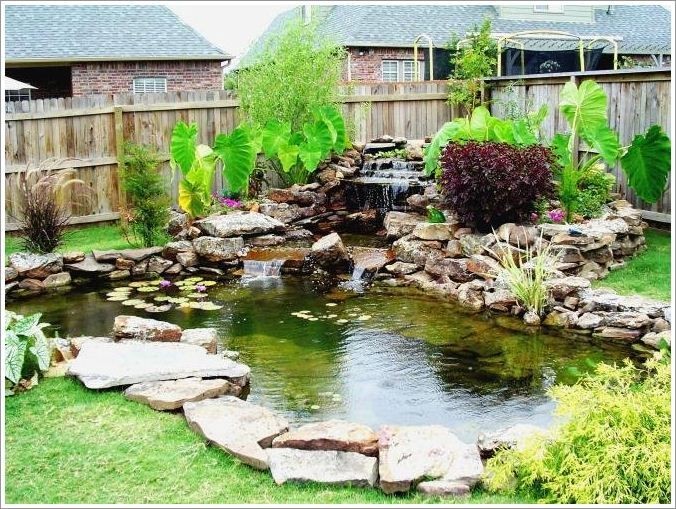 Build a Koi Fish Pond Garden

Backyard Water Garden with Pond Waterfalls

Cement Planter Container Water Garden

Step by step Tutorial to Build a Koi Pond Water Garden

Raised Pond Garden Designs
Raised pond garden is one of the simplest ways to incorporate a pond into your garden. There are several things you can use as a raised garden element such wooden frame square, raised bed, old hot water tub, etc. Particularly an average sized container is applicable for any type of raised pond garden, which can hold 400 to 500 gallons water at once.
To craft this type of pond, place or insert the pond form first, fill the space with soil or potting soil with snugly, then set the water circulating pump along with the electrical cord; take out the every single bit of soil from the pond and fill it with adequate water. If you want to make the pond with an artificial base then, skip the soiling part from the making procedure. To avoid any kind of high maintenance, you can insert artificial leaves and flowers to your raised garden pond for giving it an attractive look in an effortless way.
Attractive Raised Pond Garden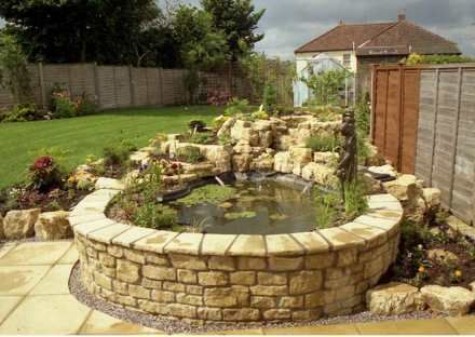 www.luxuryhousingtrends.com
Need Ideas on growing tomatoes check these.
 Raised Garden Pond with Aquaponics System

A Decorative Raised Garden Pond

Garden Ponds Design Ideas

Stone Walled Raised Garden Pond

 Want a Above Ground Koi Pond

www.creativebackyardideas.com
 Above ground water garden idea

Modern Raised Pond Garden with Fountain

monotreal.com
 Above Ground Simple Water garden

DIY Water Garden and Koi Fish Pond

learningasigotips.wordpress.com
 Woodish Raised Koi Fish Pond Garden

Natural Pond Garden Ideas
Natural backyard ponds are not a tough thing to do, though it claims a bit more labor than the other equivalents! Natural pond means, which doesn't have any artificial touch in it, like the base, decorations, plants, creatures, or water! Some people even try to fill this type of pond with the rain water, instead of tap water!
However, to make this kind of pond, dig the ground deeply in a perfect shape, fit the liner first at the border panels, then, short the edged by soil or rocks and develop it into a natural pond as soon as possible. You can include a frog in your natural pond to make it a frog-friendly natural pool.
Beautiful Natural Pond garden

 Wildlife Natural Pond Garden

Natural Looking Pond Garden Landscaping

Amazing Garden Ponds

livedan330.com
 Natural Colors and Pond Plants Water Garden

ruralgardener.co.uk
Spring  Koi Fish Pond Garden

www.butchartgardens.com
DIY Pond Garden
DIY ponds are not a complicated thing to build in these days, especially, while you are making it for a garden area. At first, make certain the measurement of your pond and then bring a proper container of that dimension. It could be a wooden bucket, a raised bed, a huge clay pot, a paving stone reservoir, etc. all could be used as a perfect object for a DIY pond with a restricted area.
You can even make a pond in your garden base if you want! All you just have to do is that dig some place in your garden, secure the bottom surface of it with some plastic canvas and emphasize the edges with different kinds of rocks. After completing all the steps, just pour normal water into the pond and adorn it with some nice leaves and flowers.
How to Build a Garden Pond and DIY Deck

DIY Backyard Ponds And Water Garden Ideas

www.architectureartdesigns.com
DIY Water Garden – Building a Pond Feature garden under $30

Garden Water Feature Functional Picture Idea

Create Pond in a Pot for Small water garden

How make a small koi pond for water garden feature

learningasigotips.wordpress.com
Creating a Backyard Pond

 Better Pond Filter Idea


backyard.cvhslaw.com
Clear Water Koi Fish pond Water garden

coffeylandscaping.wordpress.com
DIY Recycle Tractor Tire Into Beautiful Pond Garden Feature

thewhoot.com.au
You may also be interested in DIY Outdoor furniture for you pond garden.
How to Build a Amazing Backyard Garden Pond

How Can I build a Cheap and Easy Pond for My Water Garden

Tips for Starting a New Pond Garden

Building Guide for Backyard Pond Garden

www.ehow.com
 Inspiring Backyard Pond Garden Ideas

blog.dcspub.com
 Build a Backyard Garden Pond with Cinder Blocks and Rocks

Natural Backyard Ponds and Water Garden Ideas

naturalgardenideas.com
Water Garden Ideas Pond Plants
Pond garden or water garden is a very fresh design among the beautiful gardening patterns, which nowadays, hugely preferred by the several contemporary gardeners. To make this pattern, you need to decide the plants first which you love to grow in your ponds. Generally, water lily, lotus, water poppy or Nardoo plants grow best in such circumstance.
So, just dig a nice water base first, convert it as a pretty garden pond and situate your desiring plants under the hole of that pond, finally fill the pond with water to complete the procedure. Make sure that you are rooted the floating plants properly as these water plants need their roots sitting in the bottom of the pond very deeply! Don't forget to oxygenators your pond to keep it healthy and clean.
Choosing Your Pond Plants

 Ecosystem Ideas for Backyard Water garden and Pond Plants

www.vawatergardens.com
 Choose the Perfect Water Garden Plants

Lotus for your Pond: How to Plant a Lotus in Your Pond

Choosing Pond Plants Perfect for Your Garden

Pond Plants Inspiration

http://www.hgtv.com/vertical/outdoors/flowers-and-plants/choosing-pond-plants-pictures
Oxygenating Plants and Planting Guide for  Submerged Plants

Floating plants, Emergent plants and Submerged plants Picture Idea

Plant a Water Lily DIY Pond plants

How you can attract wildlife to your pond garden

houseandgardenningaddicts.wordpress.com
Beautiful Pond Plants for your Water Garden

Guidance and Instructions for pond plants

Water Garden Pond Filter Ideas
Pond garden filter is one essential segment for your garden pond if you need to keep your pond is proper form. We always need to maintain the atmosphere of our pond neat and healthy, whether we are planting in our pond or not! So, this garden filter process does the same thing for us with some simple steps. You may buy an expensive pond garden filter in the market easily, but, we can show you an easier way to do the task in DIY process, check this out-
To make a proper garden filter for your garden pond, take an old unused bucket or trash can; make a drainage hole in the bucket on the side next to the bottom. Then, position the bucket, which will help to run-off from the drainage hole that will return to the water surface. Now, fill the bucket with cleaning filtration materials, sink a waterproof pump into the water and turn it on. When you are turning on the pump, water will flow out to the top of the bucket through the filtered materials and back out through the drainage hole into the pond.
DIY Pond Filter How you can build a pond filter

How to Build a Pond Filter System

Building a 55 Gallon Pond Filter

www.thepondforum.com
Bio Pond Filter for Clean Pond Water

Aquascape Pond Filter Urn

Tips and Ideas for Sparkling Clean Pond Water

DIY Pond Filter

Pond fish Ideas for Water Garden
Fishponds with definitely make your garden more natural and real from every aspect! To convert a garden pond into a fish pond, we need to follow some precise steps carefully, as, if we are making a fish pond in our own garden; we need to concentrate more on the maintenance of our ponds.
To craft such ponds, make a perfect soil base on the ground of your garden, fill it with water as we already mentioned above, and then add some desiring fishes into your ponds. Make sure that you are adding them, exactly later 2 weeks after making the pond. Because it will allow time to build up some natural atmosphere around the garden and inside the pond.
Natural Pond Water Garden

Soon with moe updates…
Pin it for Later

Save