Mason jars have several functional advantages as we mentioned before in our previous mason jar craft and storage article. Today, we are going to give you some more creative ideas on how you can utilize these fantastic jars for various purposes. DIY craft ideas always instruct us how to use old, unused products in a beneficial way, and this concept hasn't changed a bit in this matter of mason jar project as well! Let's check out some easy home organization with these mason jars in some easiest procedures-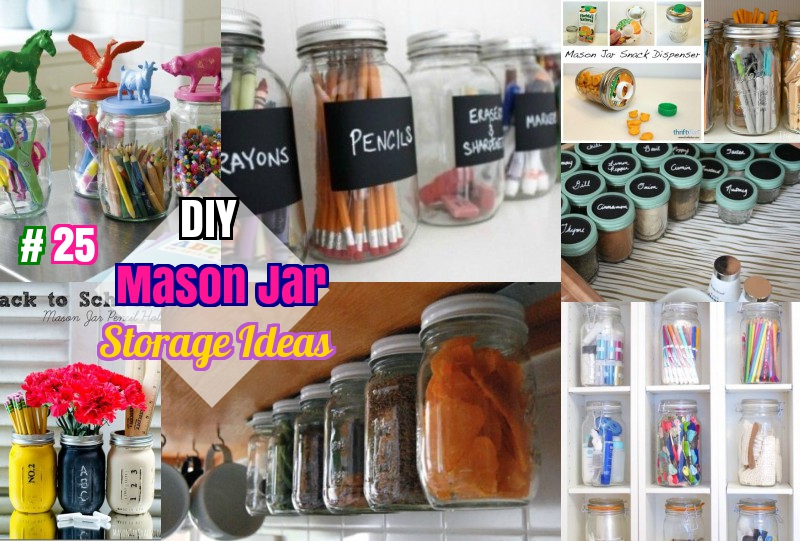 Wall Storage Organizer with Mason Jars

Wall storage idea is one of the most frequent tricks to utilize mason jars in an organized way. You need to make a wooden surface first along with some metal holding rings, which you can easily craft at your home with the help of some tools and screws. When the base is done, place mason jars into the holes of those rings and use them as the wall storage for your any working area. We will recommend you to decorate each jar before hang them on the wall to get a true professional touch to your wall storage!

You may also be interested in outdoor furniture with storage ideas.
DIY Mason Jar Bathroom and Makeup Storage

If you are looking for some easier process to use these jar, then just store them at your required place with their lids and clear every single piece before pouring any stuff into them.

Kitchen mason jar storage pattern is another common trick to use such things in a functional way. You just need to set the lids of the jars over the top float up or under the cabinet of your kitchen, now just put your desiring stuff inside the jar and set them under the caps. You can even use these jars as the utensils holder for your kitchen.
Dorm Room Decor Painted Mason Jar Storage Ideas


DIY Knob Mason Jar Storage

Spice Cupboard Mason Jar Organization

DIY Step by Step Mason Jar Storage

How to have a Organized Craft Room with Mason Jars

DIY Mason Jar Bathroom Storage ideas

New Mason Jar Snack and Juice Dispenser

 Organized Utensil Storage with Mason Jars


The craft room is that place where you can use these jars even more widely, as we need different places to place various crafting elements like, colors, pens, pencils, glitters, glue, papers, felts, etc. So, emphasize jars with some proper headings would be a nice attempt to utilize these storage items.
Bathroom Organization with DIY Painted Mason Jars

Mason Jar DIY Organized Sewing Room Storage

Organized Craft Supplies Storage in Chalk Labeled Mason Jars

 Home Organization on a Budget with Mason Jars

organizingmadefun.blogspot.com
 DIY Under the Cabinet Mason Jar Storage for Kitchen

twomenandalittlefarm.blogspot.com
 Space Saving Homemade Organization Ideas

Using Mason Jar for Kitchen Spice Storage

DIY Animal Topped Mason Jar Craft Organizer


Jar with a tap is one mentionable endeavor to use this mason jar. We need laundry soap and softener storage for our bathroom with the huge torso, so, set a tap on the bottom part of each mason jar, and then, fill them up with your required product. In this way, you can take out your required thing in comparatively an easy process!
  Under the Shelf Mason Jar Storage

 Crocheted Mason Jar Storage for Crochet Supplies

Save
Save