Those days are long gone while we use bathrooms only to looseness excreta or to take baths. Nowadays, a bathroom has become not only a place of relaxation but, it also reflects the class of our taste! Probably that's why a toilet interior is essentially required whenever we decoration our entire house! Though, there are several skilled interior designers present there in the market, who can adorn your toilet magnificently, yet, sometimes, it's more indulging to embellish our places with our own hands, isn't it?
Nevertheless, this desire could become a bit tricky while we have a smaller place in sanitary to décor. Thus here are some functional tips about how to decorate your small bathrooms with some trendy twists. Check this out-

No matter, how much bigger or smaller toilet you have, but, you just have to put in some basic things into your toilets like one basin, commode, shower, mirror, dustbin, and a place for your washing machines if you have included the laundry as well in your bathroom. So, if you just have to place in these bathroom appliances in your small toilet, then isn't it better to place all the things systematically to keep it well-arranged!
Barn Door Rustic Interior Room Divider

If you have a room divider small toilet, then, try to use the wooden door and appliances as, this will give your room a classy touch! For this type of bathroom fragrance is highly needed; hence, try some air freshener or real flower into your small place to wash out the stinking air from your toilet as well as the attached room!

A small bathroom cabinet would look nice under your basin to keep the privacy of your bath products. Try to place this cabinet exactly under the mirror and near your towel hanger that will make available your entire important items in a row and all within a near rich!

If you don't have too much of place to set a nice and classy bathroom cabinet, then, go for some wooden made racks. Even these wooden racks also cater a stylish interior to your bathrooms. Some trendy light designs would look imperial over the mirror in this kind of toilet.

A steal made clothes rack is another sparkling bathroom appliance that could give your little toilet a designer touch. One nice wall plate over this stand will look even more brilliant for a neat bathroom interior. If possible then just place an elegant bathtub in one corner and cover it with a diaphanous curtain, these will give a perfect glance to your toilet decoration.

Some bathroom mats are highly required in this type of small bathroom, as; this will soak the extra water from the floor and prevent your toilet from being dirty. One signifying appliance we must not forget to place in every toilet, and that is the tissue stand along with a tissue roll.
Easy Storage ideas for small bathroom


Small Bathroom look and design

A rod-iron made or wooden made stool will resemble spectacular in this kind of fashionably designed toilet. You can easily put your extra towels or some bathing equipment on that stool. Some people even manage to place one flower vase along with leaves and flowers in their little bathrooms, while a few have managed to put one or two little plants into their toilet to keep the atmosphere healthy!

Rock the Shower


Moreover, adorn your small toilet with as per your requirements but don't forget to keep things neat and clean! One more imperative thing is that always try to place that every single thing in your toilet which is needed to put the basic appliances of a bathroom, whether it is a towel stand or a rack for bathing stuffs!
Top View of Small Bathroom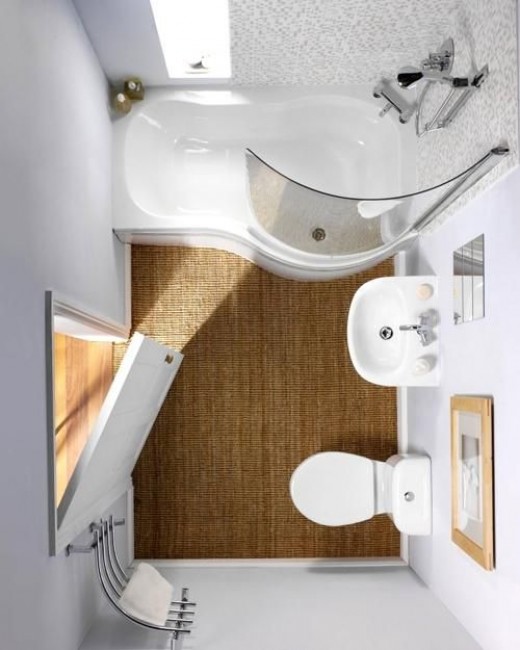 Storage ideas for Small Bathroom

Upgrading Small Bathroom with new ideas



Decorate a Small Bathroom with inspiring looks

Neutral Color ideas for Small bathroom